Chris Rock Slavery Tweet Generates Controversy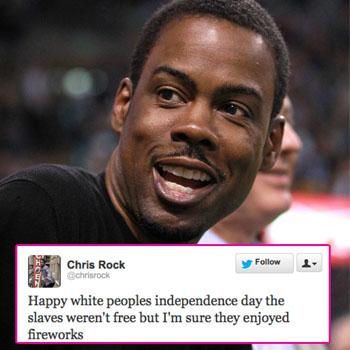 Chris Rock set Twitter abuzz with his sarcastic sentiments July 4.
"Happy white peoples independence day the slaves weren't free but I'm sure they enjoyed fireworks," Rock tweeted to his 858,051 followers.
Actor Don Cheadle retweeted Rock's tweet, adding "Haha," while Scrubs star Zach Braff added, "Slaves weren't freed for another 90 years. So maybe just enjoy some of the fireworks."
The sentiment resonated with those in the Twitterverse, as more than 10,000 users retweeted it, while almost 1,500 users marked it as a favorite as of Thursday morning.
Article continues below advertisement
EXCLUSIVE DOCUMENTS: Chris Rock Sued Over Movie Remake
Not all were amused by Rock's history lesson, however, as a number of Twitter users replied with angry, emotional responses.
David Burge wrote, "Good one! I bet your Guatemalan house staff got a good chuckle," while blogger Jeff Schreiber wrote, "Slavery existed for 2000yrs before America. We eradicated it in 100yrs. We now have a black POTUS. #GoF***Yourself."
MORE ON:
hollywood happenings