Woody Allen Holds On Tight To His Daughters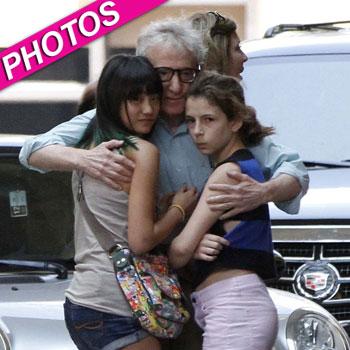 Rarely seen in LaLa Land, Woody Allen was spotted Friday in Beverly Hills, tightly hugging his daughters Bechet and Manzie.
Manzie seemed none too happy with her dad, and kept her arms tensely crossed across her chest as he tried to draw her into the family huddle.
The writer/director was on the West Coast to promote his new film To Rome with Love, which opened the Los Angeles Film Festival Thursday night.
Article continues below advertisement
Allen, 76, his wife Soon-Yi Previn, 41, and their adopted daughters all stayed at the Four Seasons Beverly Wilshire in Beverly Hills.
Allen and Soon-Yi are approaching their 15th wedding anniversary but began their relationship in what has become one of Hollywood's most iconic scandals.
Soon-Yi was was adopted by Mia Farrow and conductor Andre Previn when she was eight years old. Two years later, the pair divorced, and Soon-Yi then lived primarily with Farrow who moved on to a 10-year-relationship with Allen.
That ended in 1992 when she discovered nude photographs of her then 20-year-old daughter, taken by Allen.
Soon-Yi and Allen moved in together and married in 1997. They've both said they never had a father-daughter relationship in the years he was with Farrow.
As RadaOnline.com previously reported, Allen met with Lindsay Lohan last month in New York. She may be appearing in his next film.
RELATED STORIES: