Lindsay Lohan Brings Out Her Inner Liz Taylor For Movie Protest Scene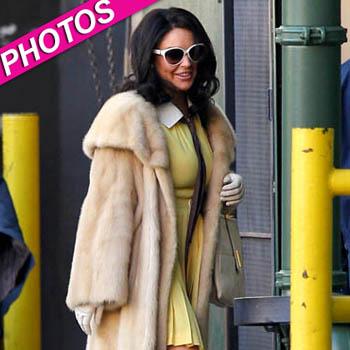 Lindsay Lohan was able to call up some of her own personal experiences while filming a scene Friday for her upcoming TV movie, Liz & Dick.
The scene recalled the reaction to Elizabeth Taylor after she dumped husband Eddie Fisher for the married Richard Burton, beginning perhaps the most famous romance in Hollywood history. Taylor was hounded by reporters and photographers -- sound familiar? -- and reviled by the public who considered her a serial home wrecker.
Article continues below advertisement
It was only a few years earlier later that Taylor had "stolen" the married Fisher from Debbie Reynolds -- the Angelina, Brad and Jen of their day.
LiLo has been back at work without incident. following her car crash and "exhaustion"-related sleep-in.
The film is expected to wrap June 29, and will be broadcast on Lifetime November 3.
RELATED STORIES:
Ali Lohan Shows Off Stick Thin Legs In Short Shorts
Lindsay Lohan Assault Accuser Just Wants An Apology, No Plans To Sue
Lindsay Lohan Still Not Officially Signed For Elizabeth Taylor Biopic