Khloé And Lamar Open Up About Their Marriage To Oprah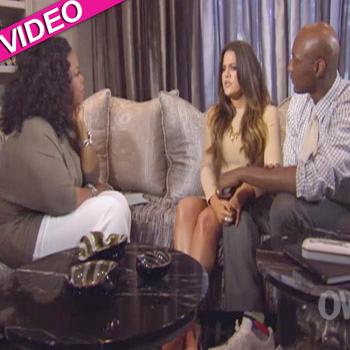 Very few thought they'd last even the 72 days of her sister Kim's marriage, but Khloe Kardashian and Lamar Odom are coming up to their third anniversary, and on Sunday night, they opened up to Oprah Winfrey on what makes their relationship work.
The interview is part of Winfrey's two-part show on the Kardashian-Jenner family airing on her Oprah's Next Chapter series.
"I feel the pressure from me to be a great wife," Khloé tells Oprah, denying that she lets "the public" influence the way she behaves.
Article continues below advertisement
She also says she doesn't read "the tabloids or blogs" but knows others in her family do, including her grandmother who once called her to congratulate her on having twins!
The interview airs tonight 9/8c on OWN.
How Khloé Kardashian and Lamar Odom Make Their Marriage Work
In 2009, Khloé Kardashian shocked her family when she married NBA star Lamar Odom after dating him for just four weeks. Three million fans tuned in to watch their impromptu wedding on Keeping Up with the Kardashians. Now, almost three years later, Khloé tells Oprah why she puts pressure on herself to be a great wife and doesn't read the tabloids.