Kate Middleton Recycles Entire Outfit Again!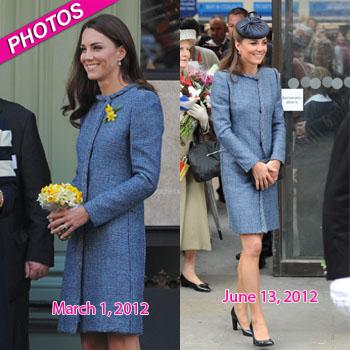 Article continues below advertisement
Catherine, the Duchess of Cambridge, 30, wore the exact same jacket just two months ago at another event with The Queen.
Kate rocked the M Missoni coat (the less-expensive Missoni line) from the Fall 2010 collection over her blue Zara dress, which she has worn multiple times, most famously the day after her fairy tale wedding.
Completing the look Kate wore her sapphire and diamond earrings, which were a gift from William and were his mother Princess Diana's.
Kate's completely recycled look is dazzling as usual, and she reportedly pays for all of her clothes herself too! Frugal royal!
RELATED STORIES:
Fit For A Queen! William And Kate Attend Diana's Niece's Wedding
Kate Middleton Wows As The Lady In Red At Queen's Jubilee
Prince William Is 'Keen' To Have Children With Kate Middleton
Prince William Opens Up About Missing His Mom, Princess Diana, On His Wedding Day