Jersey Shore's Snooki And Deena Take A Baby Doll On Ferris Wheel Ride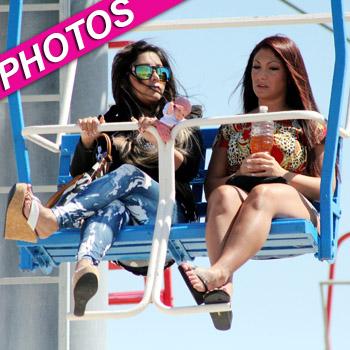 As Snooki gets ready for the birth of her first child, she's had to give up drinking and partying.
So the Jersey Shore star has found a new way to get her thrills -- riding a Ferris wheel.
The 24-year-old, real name Nicole Polizzi, was joined by co-star Deena Cortese who looked in much better form that she did earlier this week when she was arrested for disorderly conduct for being intoxicated in public while out in Seaside Heights.
Article continues below advertisement
Bizarrely, the two pals decided to take a baby doll along with them which they perched perilously at the edge of the handle as they went up in the air -- although we're not sure what that says about Snooki's mothering skills!
But the bubbly brunette seemed to have fun driving around the boardwalk on a mobility scooter to take the load off her little legs and at one point Deena hopped on the back with her.