2012 CMT Awards: Carrie Underwood The Night's Big Winner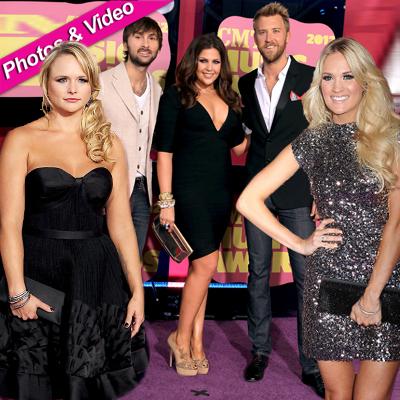 Carrie Underwood, Miranda Lambert and Lady Antebellum all collected awards at Wednesday's 2012 CMT Awards in Nashville, and we've got all the details for you right here on RadarOnline.com.
The one-time American Idol champ won the video of the year award -- her third -- for Good Girl, as well as collaboration of the year for her duet with Brad Paisley, Remind Me.
As the ceremony took place at the Bridgestone Arena -- where husband Mike Fisher's Predators play -- Underwood told reporters backstage, "I think we live here; we need to like rent a room here so we can sleep here, too."
Article continues below advertisement
Underwood credited her fans with her success on the night.
"They're the ones in control," she said. "I have a really active fan base. The people who come to my concerts and support me, they really get out and they do stuff. They vote. Any polls or any awards show, anything that they have control of, they're all about it."
One highlight of the event included taped segments with both President Barack Obama and his expected opponent in this year's election, Republican Mitt Romney, as they weighed the merits of who the show's host should be: either one of the two co-hosts, Toby Keith or Kristen Bell.
Watch the video on RadarOnline.com
"This is one of the toughest decisions I've had to make since I've been in office, but I decided I want them both," the president said, while Romney agreed, adding, "See, I just put two people back to work."
Elsewhere, Lady Antebellum claimed the group video of the year for We Owned the Night, while Miranda Lambert's Over You got her the honors for female video of the year, and Scotty McCreery won breakthrough video of the year for The Trouble with Girls.