Bruce Springsteen's Wife Patti Scialfa Sobs In Italy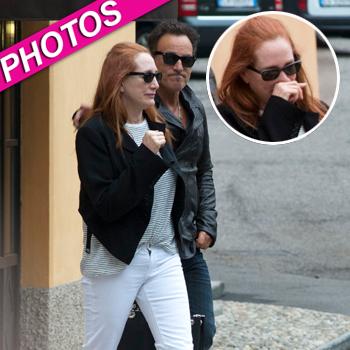 They're the most private of rock royalty, Bruce Springsteen and his wife Patti Scialfa are rarely seen off-stage, so it was a shock to find them out shopping in Italy on Saturday, with Patti in tears as they left a boutique.
The couple was in Italy as part of Bruce's European tour supporting his new Wrecking Ball album. Patti, a singer/guitarist, has been a member of Bruce's E Street Band since long before they wed.
Article continues below advertisement
Friday was the couple's 21st anniversary and after their show in Milan, they went to spend Saturday in Como to celebrate.
EXCLUSIVE: Bruce Springsteen's Cousin Died From Accidental Drug Overdose
But instead of smiles, it was a flood of tears that Bruce was faced with as they walked out of a shop, and Springsteen appeared a bit lost as to how to handle his wife's meltdown.
The couple, who have three children, are in Florence for a show tonight.
MORE ON:
Bruce Springsteen