Blake Lively Exercises Her Second Amendment Right: 'Don't Mess With Me In A Gun Battle!'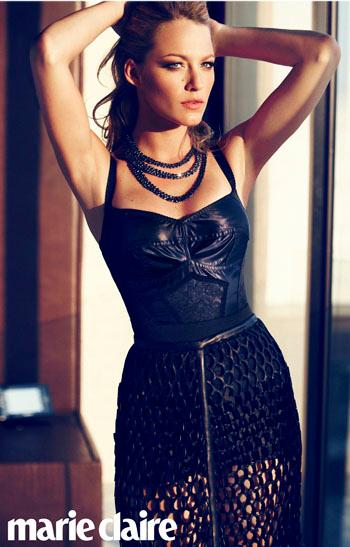 Ryan Reynolds you've been warned…
Don't mess with Blake Lively, because she's armed and ready to go!
The Gossip Girl star opens up in the July issue of Marie Claire, spilling on style, men, dating and her mean, on target shooting.
"It's definitely attractive when a man can dress well," she says. "What I love most is when someone, guy or girl, is effortless and has this old-timey sort of feel that you could take a snapshot of them and they could exist in any time period."
Article continues below advertisement
And her current beau, Ryan Reynolds has just that! While she wouldn't give up details about her hot boyfriend, the actress did reveal she's only been in four serious relationships.
"People were like, 'That's impossible!' But it's true. I've been with very few people," she confesses — past boyfriends include Leonardo DiCaprio and Penn Badgley.
"If I'm not with somebody who really excites or inspires me, then I'd rather be by myself. To be around me, you must love food or I'm the most obnoxious person you've ever met," she continues. "I'm in a big cooking phase. That's all I'll talk about."
But, the 24-year-old did want to talk more about her true love: fashion.
Blake admits she doesn't rely on stylists for her good looks, instead she puts herself together for social outings, including big red carpet appearances.
"A lot of times I do my own hair and makeup for events. Sometimes I think, 'God, why do I do this to myself? It's so much extra work!' I love fashion. It's such an expression of self," she adds. "I often see people and they look great, but I can identify who styled them. Every stylist has a signature. Maybe it sounds jerky, but I'm lucky to be on such a fashion-centric show Gossip Girl. There's no designer I don't have access to."
Article continues below advertisement
With the last season of her hit show wrapping up, the fashionista is eager to play different roles and you can see her get kidnapped by a drug cartel in Savages on July 6 where she had to toughen up for the film.
"I went to the gun range and learned how to shoot a gun for the first time. It was awful," she tells the magazine. "I asked myself, 'Why were these things ever invented?' But I did feel good that my first three shots were straight to the heart. It's good to know -- don't mess with me in a gun battle."