The Voice: 4 Eliminated In Show's Semifinal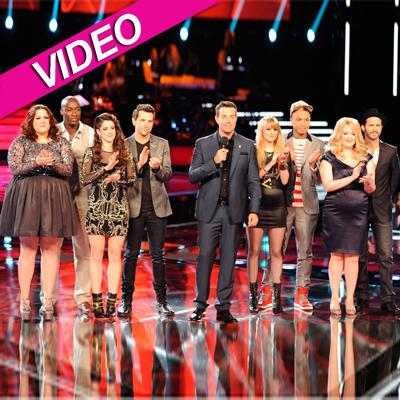 Four of the remaining eight hopefuls were sent packing in an emotional edition of NBC's The Voice Tuesday, as judges Christina Aguilera, Adam Levine, Blake Shelton and CeeLo Green each had to divide 100 points between their two finalists, with the results being factored in with viewer votes to determine who'd be going home.
Christina played it diplomatically, awarding 50 points apiece to her singers, Chris Mann and Lindsey Pavao. Chris won the battle in viewer votes, leaving Lindsay on the outs.
Article continues below advertisement
"Christina, thanks for making my dreams come true," Lindsay told the What A Girl Wants singer after she was bounced.
Adam gave Katrina Parker 40 points and Tony Lucca 60 points in an admittedly tough decision.
"I believe that you're both equally talented," the Makes Me Wonder singer said. "My connection with Tony could lead him to win this thing."
America's votes backed him up, leaving Katrina eliminated.
Like Christina, Blake divided his points down the middle, giving 50 to both Erin Willett and Jermaine Paul, but viewers were partial to Jermaine.
Erin said after she was eliminated, "I never thought that I would be this far in this competition … this show is life-changing."
CeeLo gave Juliet Simms 60 and Jamar Rogers 40, explaining Juliet's performance a night before "was beautiful and striking and strong."
Article continues below advertisement
Jamar said he "never thought I would make it this far," thanking everyone for the opportunity.
Watch the video on RadarOnline.com
Tuesday's show also featured performances from former competitors on the show including last season's champ Javier Colon, Dia Frampton, Vicci Martinez and Beverly McClellan.
The Voice's season finals begin on NBC next Monday at 8/7c.
RELATED STORIES: