Exclusive
TIME Magazine's Breast Feeding Cover 'Is Outlandish And Disturbing,' Says Conservative Group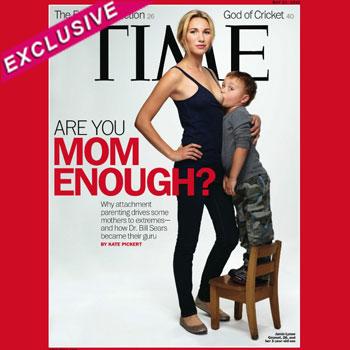 By Debbie Emery - Radar Reporter
TIME magazine has gone the extra mile in promoting Mother's Day this year, and the publication's provocative cover has caused an avalanche of debate and feedback, both positive and negative.
The controversial image on the cover of the May 21, 2012 issue portrays blogger Jamie Lynne Grumet with her real-life son, Aram - who will turn four next month - standing on a stool breast feeding.
Article continues below advertisement
PHOTO: Charlize Theron In Paris With Son
The 26-year-old mother-of-two from Los Angeles, California, who runs a blog called I Am Not A Babysitter, is an advocate of attachment parenting, which encourages extended breast-feeding and co-sleeping.
Her parenting style aside, the brash nature of the photo has disgusted Dan Gainor of the Culture and Media Institute, who exclusively told RadarOnline.com that he thought it was a desperate bid by TIME to boost their readership.
Hot Celeb Moms - Happy Mother's Day!
"Since TIME magazine has declined in both circulation and notoriety, it now tries to be offensive to get attention," Gainor revealed to RadarOnline.com.
"The idea of a mother breastfeeding a grown boy is both outlandish and disturbing, which is also a good way to characterize what TIME magazine has become."
Inside the issue, Grumet reveals that she was breast-fed by her mother until she was six, when she self-weaned, and described it as, "It's really warm. It's like embracing your mother, like a hug."
Article continues below advertisement
The alternative mom said she is no stranger to criticism over her unusual approach to parenting. "There are people who tell me they're going to call social services on me or that it's child molestation. I really don't think I can reason with those people," she revealed.
"But people have to realize this is biologically normal. It's not socially normal. The more people see it, the more it'll become normal in our culture. That's what I'm hoping."