Exclusive
The Bad Girls 'Turned My Wedding Into A Funeral!' Says Tanisha Thomas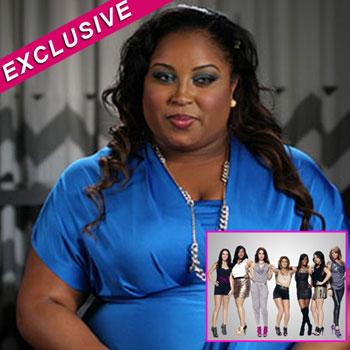 Article continues below advertisement
"It was a lot more stress than I ever imagine," Tanisha told RadarOnline.com in an exclusive interview. "The Bad Girls almost turned the wedding into a funeral!
"Amber McWha and I are really close, and Natalie Nunn and Flo Kaja came too, they were all in the wedding party."
Unfortunately, Natalie and Flo have "one of the biggest feuds in Bad Girls history," revealed the blushing bride, and they didn't put their troubles aside for her wedding day.
"It goes down between the two of them! I tried to tone it down but you see everything exploding," she said about the drama that was all caught on camera.
"It was not easy, I don't know what I was thinking having them there!"
Other challenges the larger-than-life star had to deal with before walking down the aisle on December 4 at the Thatch Cottage in Long Island, New York was to persuade her camera-shy fiancé, Clive, to air their intimate moments on television.
Article continues below advertisement
"It took some convincing to get him to finally agree to do the show, he ended up being a natural and liking it," she explained. "Then I had the stress of his family not wanting to be part of it either. My family and friends never did the whole TV thing before, I usually keep that side of my life private.
"The wedding really was a mix of emotions, it was bitter sweet, it was a roller coaster ride. The show is a look at my world turned upside down, you are getting a back stage pass at my life!"
VIDEO: Tanisha Thomas And Sebastian Bach Face Off
When asked what she would do differently given the chance, Tanisha replied candidly: "There's lot of people I wouldn't have invited. It gets expensive at $100 a plate.
"I would have started planning it a lot sooner too, the moment Clive got down on his knee and proposed!"
Six months into married life, Thomas revealed, "It is a work in progress. It is not easy, I am in the public eye so I am constantly on the go. Clive works in a grocery store as a stock person, so he definitely gets overwhelmed and this is all brand new for him."
Article continues below advertisement
The couple are now looking to the future and having children, a move that has encouraged the former Celebrity Fit Club contestant to take control of her weight once and for all.
"It's making me want to make healthy choices in my life and think about food and exercise," she told RadarOnline.com.
"When you think about a family you have a responsibility to make sure they are healthy and well taken care of," explained Tanisha, who is working on a cookbook featuring healthy twists on her favorite Caribbean soul food.