Exclusive
Rosario Dawson Shows Off Her New Assets, Did She Get Breast Implants?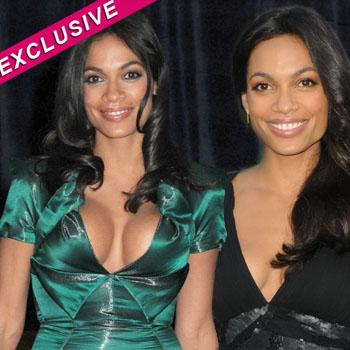 When Sin City star Rosario Dawson walked the red carpet in the nation's capital on Saturday night it wasn't her stunning emerald green silk gown that caught everyone's eye, but the bulging cleavage almost popping out of it.
The 32-year-old actress appeared to be more voluptuous than ever at the 98th Annual White House Correspondents Association dinner at the Washington Hilton, prompting speculation that she has gone under the knife and gotten breast implants to enhance her curves.
Article continues below advertisement
"Comicon hottie Rosario Dawson appears to have grown super heroine-sized breasts," celebrity plastic surgeon, Dr. Anthony Youn, who has not treated the star, said in an exclusive interview with RadarOnline.com.
"Her chest size looks like it's gone from a B to a D, likely from a set of large breast implants which make her look like the characters in the comics she promotes," explained Dr. Youn.
"If her surgery was recent, it's possible her breasts will settle down a bit," he added.
As RadarOnline.com previously reported, Rosario wasn't the only Hollywood starlet rubbing shoulders with the president in DC last weekend.
Kate Hudson, Reese Witherspoon, Kim Kardashian, Charlize Theron, Lindsay Lohan and Hunger Games beauty Elizabeth Banks all attended the A-list event.
RELATED STORIES: