Katherine Heigl Movie One For The Money DVD Release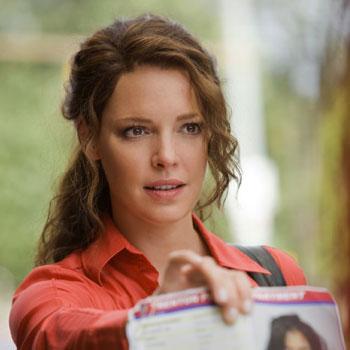 RadarOnline.com Entertainment Editor
Katherine Heigl ditched her blonde locks for a new brunette do when she battled the bad guys in her most recent rom-com One for the Money which is being released on DVD on May 15.
The 33-year-old actress hit the big screen as bounty hunter Stephanie Plum from the bestselling novels by Janet Evanovitch where she steamed up her scenes with two hunky costars, Jason O'Mara and Daniel Sunjata.
Article continues below advertisement
In the movie, Heigl's character describes Sunjata's dreamy looks as "Michaelangelo's David dipped in caramel!" And, we wouldn't disagree!
Katherine's character gets her bearings the first time she handles a gun while her dotty grandmother, played by Debbie Reynolds, ends up somehow shooting a turkey.
Katherine's portrayal of the New Jersey tough-as-nails bounty hunter who always gets her guy goes on sale May 15.