Lindsay Lohan Appears On Glee: 'Is There Anything Better Than Someone Making A Comeback?'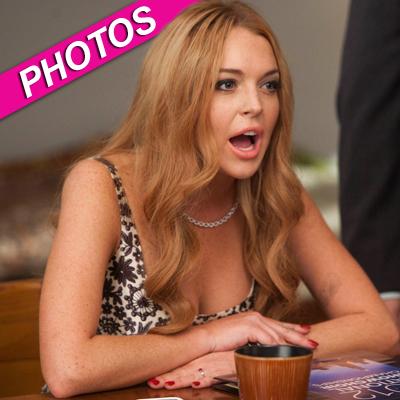 Lindsay Lohan turned in a brief, although witty performance on a special 2-hour episode of Glee -- even asking, "Is there anything better than someone making a comeback?" in her dialogue, and we've got all the details for you right here on RadarOnline.com.
The Mean Girls star appeared for only two minutes and 46 seconds in the second hour of Glee, in the context of playing her as a judge as the New Directions competed at Nationals. She took a few tongue-in-cheek digs at her notoriety, bragging how she's a a 12-time Teen Choice Award nominee and saying she's "in full image re-branding mode here, people."
Article continues below advertisement
In one crack at The Voice, she said, "I show up here and there isn't even a red button I can push and a chair that can spin me around where I can then point at a kid onstage and say, 'I want to work with you?' I'm seriously firing my manager."
Suburgatory star Rex Lee and Perez Hilton also made cameos on Tuesday's episode, also playing judges.
Of course, nothing involving Lindsay doesn't come without a steaming helping of controversy, and there was just that when reports surfaced the red-headed actress was late to tapings and tough to work with.
Glee actress Dot-Marie Jones groused in an April 25 tweet about how a nameless tardy person caused production to halt to a standstill; she deleted the tweet shortly thereafter. Hilton, asked to confirm the rumor, artfully danced around the allegations against LiLo's professionalism.
"I showed up to set early and prepared and was very happy to be there and professional, excited and appreciative for the opportunity," he said.
Article continues below advertisement
Fun fact: Things weren't so glee-ful for LiLo in November 2010, when the show made her the punchline of a joke told by guest star Gwyneth Paltrow, who played a teacher whose lesson plan included asking her pupils the Spanish translations for how many times LiLo's been in rehab.
Glee's season finale airs at 9/8c next uesday on Fox.
RELATED STORIES:
Ali Lohan Shows Off Stick Thin Legs In Short Shorts
Lindsay Lohan Assault Accuser Just Wants An Apology, No Plans To Sue
Lindsay Lohan Still Not Officially Signed For Elizabeth Taylor Biopic