Kim Kardashian Ditching Mom And Going Out On Her Own?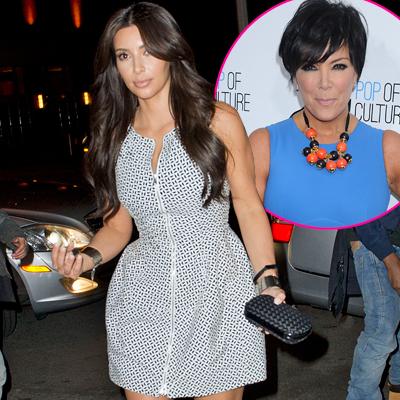 By David Perel - Executive Vice President/Managing Editor Radar
Kris Jenner is the ultimate momager, but now there are claims that Kim Kardashian is pulling away from her, and negotiating her own deals.
Fresh off Kris closing a $40 million deal for the family to continue their cable reality TV shows, Kim is supposedly cutting mom out and negotiating her own contract as a spokesperson for Tao in Las Vegas.
Article continues below advertisement
Mom cut the last deal so this would represent a stark departure from family protocol.
Khloe Kardashian On Cosmo, Lamar Leaving Dallas And Kim & Kanye
The as-yet unverified report claims Kim is asking for $150,000 per appearance -- great work if you can get it! And mom is shut out of the negotiations.
It's all part of a pattern of Kim pulling away from mom in the wake of her disastrous 72-day marriage to Kris Humphries, a drama that is STILL playing, and is headed for court. Humphries has refused to settle with Kim and is demanding the marriage be annulled, claiming fraud.
Now, with that trial looming in the background, the question is will Kim break away from mom and suddenly strike out on her own?
If so, there has been no overt indication from the public comments of either woman. But Kim did Tweet this cryptic message on May 8: "Sometimes you just have to let people grow up on their own. Even is u know what's best 4 them. They will look back and realize their mistakes."