Debra Messing Breaks Silence Over Heartbreaking Split: It Was Completely Traumatic!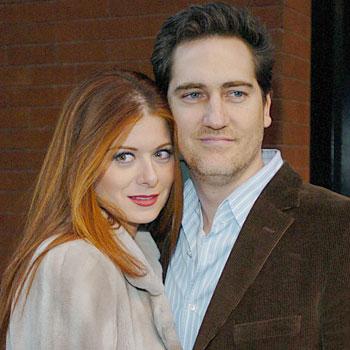 They were married for 10 years, and together for 20… so when Debra Messing, 43, ended her relationship with actor-TV producer Daniel Zelman, it was never going to be easy.
The Smash star maintained a dignified silence when the news initially broke, but now she and her family are beginning to settle again, Messing has finally spoken out about the terrible break-up.
"Twenty years. It's a very long time," Messing told Ladies Home Journal. "I think the institute of marriage is a noble thing. I think the idea of a partner for life is incredibly romantic. But now we're living to 100. A hundred years ago people were dying at age 37. Till death do us part was a much different deal."
Article continues below advertisement
Following the split, Messing relocated from L.A to New York to co-parent their eight-year-old son Roman, and she told the magazine that the whole process was "completely traumatic."
"I had to find a school for my second grader. We didn't have a home, we didn't have furniture. It was literally moving here with nothing but faith and hope," Messing said. "It was traumatic because every aspect of my life was going through a huge change."
Messing - who is currently dating her Smash costar Will Chase, 41 - is hopeful that 2012 will be a better year.
"It's a new chapter in my personal life. I'm walking a path I've never walked before. But I'm optimistic," she said. "I know myself better than I ever have before. I feel more attractive now than I have in a long time. I feel healthier and stronger."
RELATED STORIES:
Change Of Heart? Dennis Quaid's Wife Withdraws Divorce Petition