Celebrity Apprentice: Which 2 Celebs Were Fired?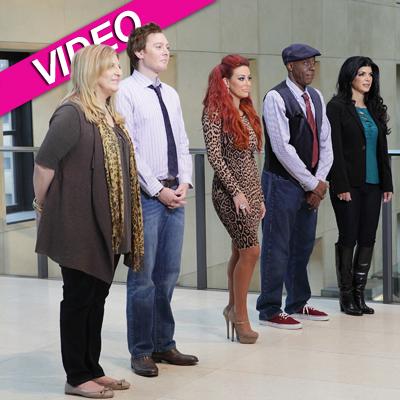 Donald Trump let Teresa Giudice and Lisa Lampanelli go on Sunday night's episode, after a task which saw the remaining famous faces compose a four-page Elle magazine spread for the CHI Touch Digital Touchscreen hair dryer.
Lisa was project manager for Team Forte, leading teammate Clay Aiken in a campaign which tried to convey inner beauty; Team Unanimous, composed of project manager Teresa, Arsenio Hall and Aubrey O'Day, built an ad campaign around the slogan, "Be at peace with the future of your hair."
Article continues below advertisement
Teresa was infuriated after an early gambit from Lisa left her team with the wrong modeling personnel for the promotion (though Aubrey successfully pinch hit for Unanimous as a model).
"Right then I saw who Lisa Lampanelli really is," said the New Jersey housewife. "She's a shady, shifty, two-faced blank. You can fill in the blank."
In the boardroom, Donald Trump found Team Forte victorious, claiming their rivals in Unanimous didn't fully advertise the hair dryer's technological innovations that made it an easy sell.
This left Teresa on the outs after a tense boardroom mudslinging session between the three members of the losing team.
"Teresa, you're fired," The Donald told her, to which she meekly thanked him.
But the eliminations were not over yet: Trump threw a twist into things, calling former Celebrity Apprentice winner John Rich and runner-up Marlee Matlin into the boardroom to interview the remaining four contestants, with one of them headed for elimination pending the results of the chats.
MORE ON:
Celebrity Apprentice
Article continues below advertisement
Ultimately it was Lisa who got the boot, because of her emotional nature -- not suited for in the cool, calculated world of commerce.
The remaining stars in the running for this year's crown are Clay Aiken, Arsenio Hall, and Aubrey O'Day.
Watch the video on RadarOnline.com
Past winners of the competition, which is played for charity, include talk show host Piers Morgan, legendary comic Joan Rivers, Poison frontman Bret Michaels and country singer Rich.