When Body Art Is Awful! 10 Really Bad Celebrity Tattoos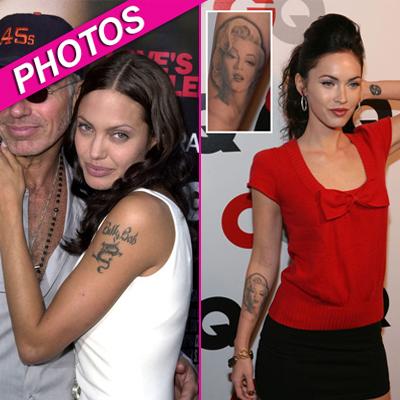 Lovely Lea Michele revealed on Late Show with David Letterman this week that she has 14 hidden tattoos. So with that in mind we ask: Mirror, mirror on the wall, which celebrities have the worst tattoos of them all?
Tattoos may be permanent, but that doesn't stop Hollywood's hottest stars from inking up their bodies with the faces and names of their lovers, misspelled inspirations and really ugly images. RadarOnline.com has photos of 10 really bad celebrity tattoos.
Article continues below advertisement
It's a lot easier to get a divorce, than to remove a huge tattoo of your former lover's name! Angelina Jolie and Eva Longoria have learned this lesson the hard way. While Jolie's ink in honor of her ex-husband Billy Bob Thornton was one of the worst public displays of affection ever, Longoria not only got her wedding date inked on her wrist, but also her ex-husband Tony Parker's jersey number on the back of her neck!
Hopefully Tori Spelling and Dean McDermott with stay together forever, because the hunk has his bra-clad bride tatted on his arm.
Talk about a Jacka** tattoo! Steve-O had himself inked on his backside, along with several other scribbles and random images.
Poor Hayden Panettiere! In her long, body tattoo, which is supposed to read 'To live without regrets' in Italian, the word 'live' is misspelled!
Goodbye Norma Jeane! Megan Fox was so inspired by Marilyn Monroe, that she got the blonde icon inked on her arm. But unfortunately, Megan changed her mind about Marilyn, and she is now a regular at the laser removal clinic.
For more really bad celebrity tattoos, click here.