American Idol: Which Singer Got Three Standing Ovations From The Judges?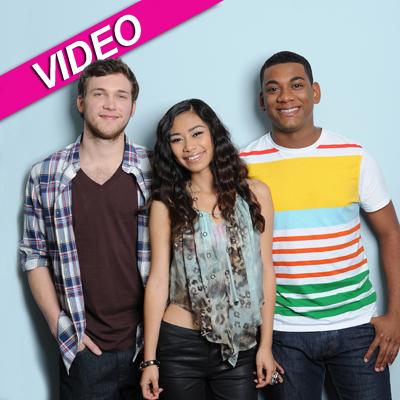 Joshua Ledet never fails to amaze.
The Westlake, Louisiana gospel prodigy, 20, set the stage on fire yet again, bringing judges Randy Jackson, Jennifer Lopez and Steven Tyler, and the audience, out of their chairs with amazing renditions of Etta James' I'd Rather Be Blind, John Lennon's Imagine and Mary J. Blige's No More Drama.
"This is another Joshua moment," Tyler said after Joshua's cover of the Etta James song. "Out of 70,000, there's only one American Idol, and you sang like that one tonight!"
Article continues below advertisement
On the night, all three competitors -- Joshua, Phillip Phillips and Jessica Sanchez -- had to sing three song selections apiece: one of their own, one from the judges and one from mentor Jimmy Iovine.
Jessica, a 16-year-old San Diego native, thrived singing Mariah Carey's My All, Aerosmith's I Don't Want to Miss a Thing and the Jackson 5's I'll Be There.
"When you sing, you make people hang on your every note," Steven told her. "You'll be the last one standing here, I believe."
The outgoing J.Lo told Jessica, "It was hard, but you did it so beautifully."
Phillip Phillips stayed strong, taking on Matchbox 20's Disease, Bob Seger's We've Got Tonight and Madcon's Beggin'.
"The perfect song, at the perfect time, and your best performance on the show ever," Jackson told the Leesburg, Georgia pawn shop worker after his performance of the Seger ballad.
Following his performance of Beggin', Tyler compared Phillip to the great Bruce Springsteen.
Article continues below advertisement
"I'm really hoping you write your own songs because you could be the new age Boss," Steven said.
The hometown segments showed how far the young singers have come in their quest for fame and glory: Josh said he felt like the president visiting home with a police escort; Jessica paid a visit to the USS Midway; and Phillip had a heartwarming exchange with his dad.
Watch the video on RadarOnline.com
Lisa Marie Presley and Adam Lambert will be in attendance as we learn who's in the top two when American Idol's 11th season continues Thursday at 8/7c on Fox.