The Voice: All 8 Singers Perform In Jam-Packed Semifinal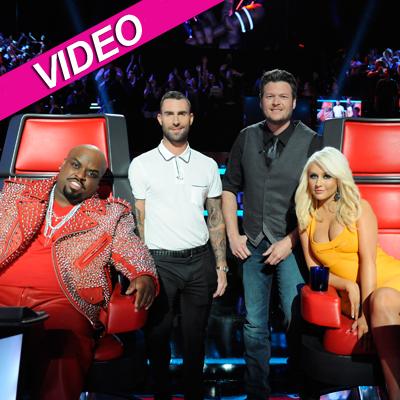 We're getting down to the nitty gritty on this season of NBC's The Voice, as all eight contestants performed in a semifinal Monday, leaving judges Christina Aguilera, Adam Levine, Blake Shelton and Cee Lo Green each with the tough decision of eliminating one of their remaining two singers.
Tony Lucca seemed to make the best impression on Adam's team with his rendition of How You Like Me Now, a song selection the Maroon 5 hunk dubbed "the perfect thing at the perfect moment."
Article continues below advertisement
Adam's other team member Katrina Parker received so-so reviews for her take on Killing Me Softly, though Adam did praise her ability to make the song her own.
Blake's got a tough call to make, as both of his singers -- Jermaine Paul and Erin Willett -- excelled in the respective performances of Open Arms and Without You.
"I would give anything to have a tenth of the talent that you have," Blake, who sang his new single Over in the episode, told Erin.
Christina said she "just felt the heavens open up" upon hearing Chris Mann's rendition of Ave Maria, putting him in the catbird seat against Lindsey Pavao who sang Skinny Love on Monday.
Juliet Simms' rendition of It's a Man's World impressed Cee Lo, who told her, "You killed it! You murdered that record!"
The Forget You singer also praised Jamar Rogers as a "success story" following in his smooth rendition of If You Don't Know Me By Now, leaving it anyone's guess who Cee Lo will send home.
MORE ON:
Christina Aguilera
Article continues below advertisement
The Voice Contestants: Record Contracts, Mickey Mouse Club Stars & Dating Celebrities!