Ridiculously Photogenic Guy 'Honored' To Be Part Of The Joke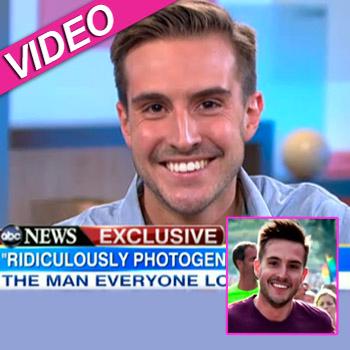 Meet Zeddie Watkins Little, the "ridiculously photogenic" guy and the Internet's newest celebrity.
Watkins has captured the nation's attention after a pic of his handsome, smiling mug taken during the 10km Cooper Bridge run in Charleston, South Carolina went viral, getting him Facebook fame as well as marriage proposals. (Bad news ladies, he's had the same girlfriend for five years.)
The 25-year-old New York native appeared on Good Morning America Wednesday to discuss his new-found fame, and of course flash his grin for the country he's captivated.
Article continues below advertisement
Little, sitting alongside the man that snapped the now-famous pic, photographer Will King, told Robin Roberts, "I find the humor in all of it, it's funny.
"I feel honored to be part of a joke that's in good spirits because the Internet can be a little vicious," he said. "Jokes can get bent the wrong way, but these are for the most part positive. I guess it's the most flattering way to get spread across the Internet."
Calling the one-in-a-million pic a "fluke," Little said the magic moment occurred when he turned around after waving to a pal on the sidelines.
Watch the video on RadarOnline.com
King, however, said he knew a good photo op when he saw one.
"There was tons of people," he said, "but he was looking straight at the camera, smiling, the sun was hitting his hair, just flowing in the wind."
"He's just an all around photogenic guy."
Little's not done running just yet, as he announced Wednesday he'll be running in the New York City Marathon for the John Ritter Foundation for Aortic Health in November.
RELATED STORIES: