Shameless Star Emmy Rossum Reveals Her Diet And Workout Secrets!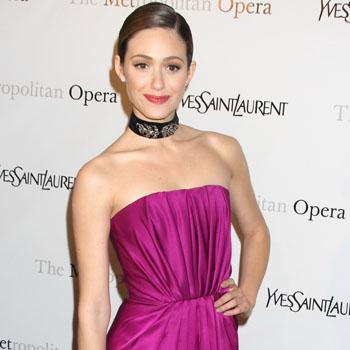 By Leah Ornstein - RadarOnline.com Features Editor
Emmy Rossum has no shame in sharing her diet and fitness secrets!
The 25-year-old gets totally naked on her hit show Shameless, so it isn't surprising that she is dedicated to staying in fabulous shape. The hot-bodied star recently dished about her diet and exercise routine to Q by Equinox blog, and RadarOnline.com has the details.
"I do like to run, but I prefer to exercise in a group," she admits. "It takes my mind off of the 'work' in the workout. I love spin classes and kickboxing classes. And one of the great luxuries about living on the west coast right now is getting to exercise outdoors as well. There's nothing quite like a hike on a beautiful day. I always take my iPhone with me and take pictures when I get to the top."
Article continues below advertisement
When it comes to fueling her body, Emmy is all about healthy, wholesome foods – and makes sure to keep a lot of garlic in her refrigerator to ward off illness.
"I'm superstitious that it keeps me healthy — especially during flu season," she explains. "I like to make soups over the weekend so I have them all through the week. My favorite to make is dairy-free carrot ginger."
When she needs a snack on set, she opts for healthy and wholesome treats such as natural peanut butter on gala apple slices and low fat string cheese and grapes.
As for her go to healthy meal?
"Brown rice, steamed or sautéed spinach with garlic and my mom's recipe of lemon roasted organic chicken. I'm also a big fan of eggs for any meal, not just breakfast. I am allergic to gluten but I love the taste and flavors of pasta and pizza. I love to scramble egg whites with tomato sauce and Italian Parmesan cheese. I also love cherry clafoutis and that is pretty healthy as far as desserts go."
But a girl has to indulge every once and awhile! Emmy reveals that her favorite decadent meal consists of a black-and-white milkshake, a medium rare cheeseburger on a gluten-free bun and sweet potato fries.
To read Emmy's extensive interview with Q by Equinox, where she talks everything from style icons to her biggest vices, click here.