Dress Like A Star (Literally!) Where You Can Buy The Clothes Of the Rich & Famous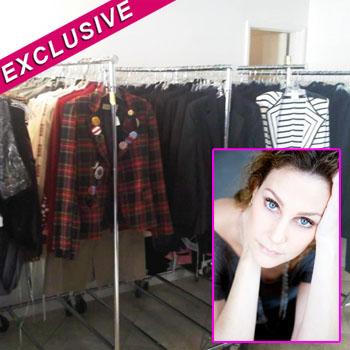 You don't have to make a fortune to dress like a star, and no one knows that better than Hollywood fashionista Caroline Bray.
The former model turned entrepreneur routinely raids the closets of the rich and famous (with their blessing!) and then re-sells their new or gently used designer clothes, including jackets, sweaters, purses, scarves and shoes, to the public for a fraction of the cost.
Article continues below advertisement
The next sale is happening in Los Angeles on Sunday, April 29th, so RadarOnline.com talked with Caroline to get the scoop on what she calls the A-List Sample Sale.
RadarOnline.com: Caroline, tell me about your background in fashion and entertainment and how that inspired you to create the A-List Sample Sale.
Caroline: I started modeling at 16 and traveled the world for the next 15 years. Throughout my international travels I fell in love with fashion and clothing. I was lucky enough to have friends that were in the entertainment business and loved to shop. Thus A List Sample Sale was born.
RadarOnline.com: How often -- and where -- do you hold the sales ?
Caroline: I have large sales about 4-to-6 times a year and do private sales monthly. Sometimes after "raiding" someone's closet I email specific people that have asked me for that perfect chanel bag and that piece is gone before even making it to the sale. The sales are held on 6th street near La Jolla in Los Angeles. "The Little House in the Back." (This Sunday's sale runs from 11am-4:30pm.)
Article continues below advertisement
RadarOnline.com: Who are some of the celebrities who've given you their clothes for the next sale?
Caroline: A few celebs that have allowed me to use their names are Melanie Griffith, Rosanna Arquette and Virginia Madsen. Most of my clients are private and don't like their names being used.
RadarOnline.com: What kind of items can people find at the sale?
Caroline: I have everything from tee-shirts to Balmain jackets. I have shirts, shoes, cashmere sweaters, scarves, belts, jackets, skirts, pants etc. I have many big designers from Chanel, Fendi, Marc Jacobs, Balanciaga, Gucci, YSL, Rick Owen, Burberry down to some items from Vince, Joie and Theory etc.
RadarOnline.com: The next sale is only for women. Do you ever have items for men?
Caroline: No. I tried that once, but I soon realized that men don't spend the same kind of money that women do on their clothing.
RadarOnline.com: What are some of the most unusual -- or amazing -- items you've gotten from celebrities?
Caroline: A purple crocodile jacket from a rock-star and a floor length beaded gown that a celeb wore to the Oscars.
Article continues below advertisement
RadarOnline.com: What's the most expensive and the least expensive items for the next sale?
Caroline: Some tee-shirts start at $20 and an expensive designer jacket could go for $3500.
RadarOnline.com: All of the items are in excellent condition and some of the items still have the price tags on, right?
Caroline: I won't accept anything that shows any wear at all. Many of my things still have the tags on them from the store. I have current items many of which are still in the store when I get them.
RadarOnline.com: Finally, it must be a lot of fun to go through a celebrity's closet. Who's had the most amazing closet and describe it.
Caroline: The most amazing and done to perfection closet that I have ever been in is about 2000 sq. feet and done to perfection with a sitting area and smoky amber crystals to make it smell good.. It belongs to celebrity jewelry designer Loree Rodkin, who is always making amazing donations of her clothing to charitable organizations that really need them.