More Music Festival Fashion! The Best, Worst & Wackiest Dressed Stars At Week 2 Of Coachella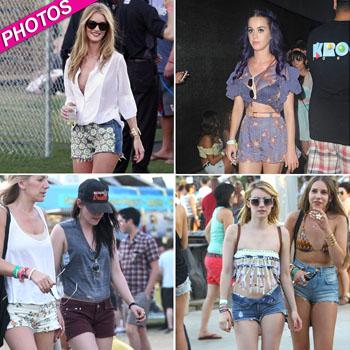 Article continues below advertisement
From not-so-hot hippies to boho chic bombshells, RadarOnline.com has photos of the best, worst & wackiest dressed stars from the second weekend of Coachella!
Rosie Huntington-Whiteley can do not wrong when it comes to her fashion choices! The supermodel-turned-big screen bombshell steamed things up on Friday, scoring the best look of the weekend wearing a nude bikini top under a lowcut J Brand white blouse with embroidered and embellished ChristopherKane shorts, Givenchy boots, a necklace from Kate Bosworth's JewelMint collection and Westward Leaning Mercury Seven shades.
Perry, who returned to Coachella to get hot and heavy with her new beau Robert Ackroyd, looked pretty in periwinkle wearing a belly-baring flirty jumpsuit, while burlesque babe Dita Von Teese glammed up the polo fields all three days with chic designer duds.
The worst dressed star of the weekend was without a doubt, Emma Roberts. The young actress, who made it her mission to show off as much of her body as possible, sported three equally awful ensembles. From a denim ASOS onesie that looked like it belonged on a baby, to a fringed bandeau top paired with rolled down jean shorts, Emma definitely exemplified the "less is less" look.
Article continues below advertisement
Stewart was the runner-up for worst Coachella wardrobe, donning a variety of tacky t-shirts, cutoff shorts, Converse kicks and her boyfriend Robert Pattinson's hats.
As for wacky, Angela Simmons couldn't quite figure out music festival fashion, sporting a sheer black dress with bright yellow floral sandals with a major black bow in her hair.
For the rest of the best, worst & wackiest dressed stars at the second weekend of Coachella, click here.