Exclusive
The Real Reason Trayvon Martin's Mother Trademarked His Name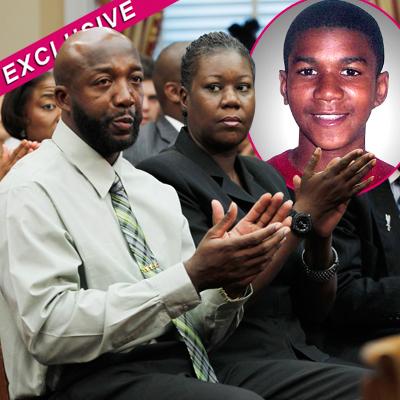 By Jen Heger - RadarOnline.com Assistant Managing Editor
Trayvon Martin's mother, Sybrina Fulton, applied for trademarks for two slogans that have appeared on T-shirts, posters and promotional materials, to prevent anyone from profiting off of and exploiting her slain son and has no plans ever to profit herself from the trademarks, RadarOnline.com is exclusively reporting.
As we previously reported, Martin, 17, was killed by a neighborhood watch vigilante as he was walking through a gated community, carrying candy and iced tea. George Zimmerman shot the unarmed teen, claiming it was in self defense.
Article continues below advertisement
Sybrina Fulton is seeking to trademark the phrases "Justice for Trayvon" and "I Am Trayvon." The family attorney, Natalie Jackson, told RadarOnline.com exclusively: "I want to set the record straight, the trademarks were applied for so that no one can profit from or promote their own agendas using Trayvon Martin. Trayvon's parents will never seek to financially profit from these trademarks, period. I can't emphasize that point enough. They haven't even been able to mourn his death because they are seeking justice for his death.
"Their son is dead and it's insulting for people to think that they are thinking about profiting from this horrific tragedy. It's sad that there are those out there that are attempting to make money off of Trayvon's death and that his parents had to do this."
The 911 call that Zimmerman made to report Martin as a "suspicious guy" has been sent to FBI headquarters in Washington D.C. for further analysis to determine if he uttered a racial slur. During the call there has been speculation that Zimmerman uttered under his breath, " f*king c**ns" after he tells the dispatcher that Martin was heading towards the back entrance of the gated community. Zimmerman also allegedly says, "these a**holes always get away."
Article continues below advertisement
During the call the dispatcher asks Zimmerman if he is following Martin, and he says yes. The operator then tells him, "we don't need you to do that." Trayvon was shot and killed several minutes later.
"Trayvon's parents met with Special Prosecutor Angela Corey and they are cautiously optimistic that this will be a fair investigation, which is all they have ever wanted. They appreciate the time that Corey spent with them," Jackson says.