Uneasy Rider: Peter Facinelli Wears No Ring After Split With Jennie Garth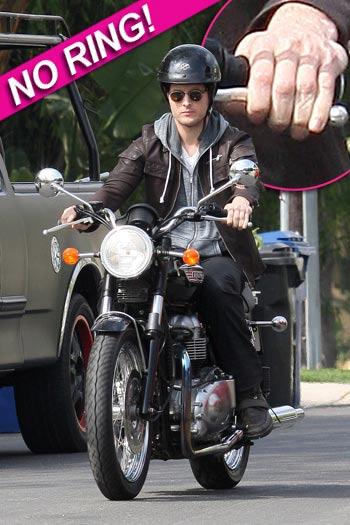 A glum looking Peter Facinelli, reeling from his split with his wife, 90210 alum Jennie Garth, was photographed Tuesday in Los Angeles on a motorcycle ride -- and while he wore a helmet, there was no wedding ring in sight.
The New York-born actor, who plays Dr. Carlisle Cullen in the Twilight series, wore an all-black get-up with a grey undershirt.
As we previously reported, word has been circulating the bright-eyed, 38-year-old Nurse Jackie hunk had a "torrid affair" with a Canadian woman in her late 20s who he met in Vancouver while working on the Twilight movies.
Article continues below advertisement
"Peter had been seeing another woman for quite some time," a source told the website Scallywag & Vagabond who was first to report the couple's split. "They tried to make it work for the sake of their children and Jennie played housewife for as long as she could but finally had enough."
The couple released a statement Tuesday in the wake of the heartbreaking news: "While we have decided to end our marriage, we both share the same deep love and devotion to our children," they said. "We remain dedicated to raising our beautiful daughters together. We ask for privacy and respect during this time."