Meet Julio Barrenzuela – Hollywood's 'Salsa Ambassador'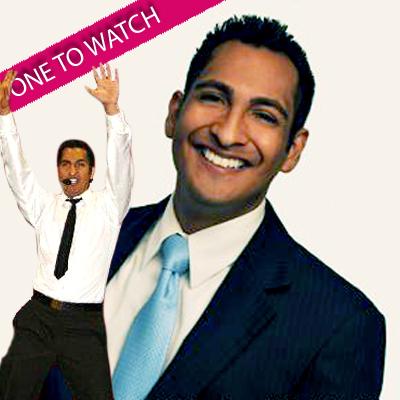 Julio Barrenzuela calls himself "The Salsa Ambassador," and he doesn't just like to dance… he LOVES to dance -- and that's why he's landed on RadarOnline.com's "One To Watch" list.
RadarOnline.com talked with the charismatic 30-year-old native of Lima, Peru about his journey from America's heartland to Hollywood, his mission to get the world moving and grooving, and which celebrity, in particular, he'd love to shake and shimmy with.
Article continues below advertisement
RadarOnline.com: At what age did you get interested in dance?
Julio: I have been dancing since I was ten. My family is all about playing music and dancing!
RadarOnline.com: At one point did salsa dancing turn from a passion to your profession?
Julio: That would be in 2002 when I returned from the Navy to start college. During my service I spent years living in Italy and visiting many countries overseas. I had witnessed first-hand how Salsa music effortlessly brings people of various ages and ethnicities together. I decided back then to dedicate myself and career to replicating that experience back home in the United States; focusing particularly on underserved communities and populations.
RadarOnline.com: Tell me about "The Salsa Ambassador?" How did you come up with the moniker?
Julio: "The Salsa Ambassador" visits the most unlikely of dancers in the most unlikely of places. The groups that have been marginalized, forgotten or have been left out of the mainstream; the unable and at times un-willing members of our communities. He wants as many people as possible to have the opportunity to do the Salsa "at least once". He is not the Salsa Champ or the Salsa King. He just wants to Salsa with people who would otherwise not Salsa.
Article continues below advertisement
My uncle Manny gave me that moniker years ago when I explained to him what it is that I do. After listening to me for hours, he exclaimed "So you're 'The Salsa Ambassador' then". I liked it and it stuck. Years later in 2009 the Mayor of my hometown Springfield, IL made it official with a proclamation.
RadarOnline.com: You teach dance to a variety of people -- from seniors to the disabled to children, among others. Tell me about working with the various groups.
Julio: That's right! In fact, the truth is that I don't necessarily "teach" anyone to Salsa--I just DO the Salsa with them. Just as a comedian doesn't teach anyone to laugh; I don't teach anybody to dance. Rather, I elicit participation and rekindle people's innate ability and need to move and enjoy themselves. As I see it, Salsa is what they make it—it can be moving one finger is that's what it takes.
Article continues below advertisement
RadarOnline.com: Has anyone particularly moved or inspired you during a class?
Julio: Yes, many years ago when I was first starting off, an elderly lady in a nursing home stopped me during a presentation to tell me "Young man…less talking, more dancing baby!" It made me smile to realize that I WAS in fact so caught up in instructing and teaching steps rather than just letting everyone in the room enjoy themselves and participate as they're able. From that day on I did it the right way and I thank her for it. I want to expose people to Salsa not necessarily teach it.
RadarOnline.com: Talk about the power of dance in breaking down cultural barriers and bringing people of all types together.
Julio: I strongly believe that there is an unspoken connection with people who Salsa. That it doesn't matter where you first heard it or who taught it to you—the focus is on the shared interest of dance and the shared experience that bonds us. The appreciation and the respect for your fellow dancer, carries over into daily life. My mission is to make sure that this connection includes and is accessible to everyone.
Article continues below advertisement
RadarOnline.com: Do you think shows like Dancing with the Stars and So You Think You Can Dance have made dancing much more popular in parts of the country that might not be as exposed to dance as other areas?
Julio: Yes, I most definitely do. These shows are able to bypass much of the resistance and work associated with opening up studios in these smaller communities. The high level of renewed interest in parents who watch it and excitement among teenagers have really helped make my job easier. I am always excited when I visit a small rural community and end up talking about the cha-cha dancing on last night's episode of Dancing with the Stars!
RadarOnline.com: Is there a famous person you'd especially love to teach to salsa dance?
Julio: Yes, I'd like to Salsa with Ellen
RadarOnline.com: You recently moved from Springfield, Illinois to Los Angeles with the intent on spreading your message about the power of salsa dancing. What do you hope to accomplish here?
Julio: I have spent over ten years in Illinois fine tuning my ability to deliver the message to any audience. I have come here to deliver it to a bigger and more challenging L.A. audience.
Article continues below advertisement
RadarOnline.com: Finally, where does "The Salsa Ambassador" see himself in five-to-ten years?
Julio: Still traveling the country (by then the world) still looking for and finding the people who have not yet heard of or done the Salsa! My goal is to find the best way to reach as many people as possible and inspire them to connect with the message. If I can make a difference in any given community by allowing their most unlikely person, be it from their wheelchair or jail cell, to think of themselves as a Salsa dancer and therefore a valued member of a much larger International Salsa community, then I have done it right.