Wowser! Heavily Pregnant Jessica Simpson Struggles To Get Her Gargantuan Bump Out Of The Car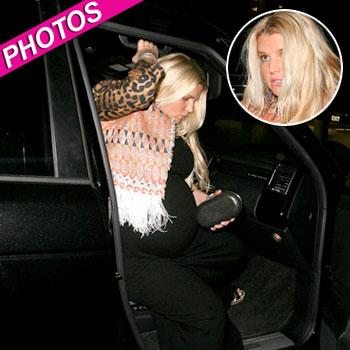 Anyone who has been pregnant knows that the latter stage of pregnancy can be uncomfortable.
But for poor Jessica Simpson, carting around her humungous baby bump looks like it's starting to take its toll as she struggled to get out of her car Friday.
The reality star turned fashion mogul had to muster up every ounce of energy to maneuver herself out of the vehicle as she arrived at Mr. Chow in Beverly Hills.
Article continues below advertisement
Wearing a black dress stretched to its capacity and covered up with a patterned jacket, the momma-to-be managed to make her way inside the eatery with the help of her fiancé Eric Johnson and her driver.
The Fashion Star mentor insists that she is only carrying one little girl, rumored to be called Maxwell, and not multiples as many assume because of her size.
Jessica is apparently not even due for another few weeks so she is still set to grow even more!