Christina Ricci On Being Outed For Eating Disorder: 'It Was A Horrifying Thing To Do To A 14-Year-Old'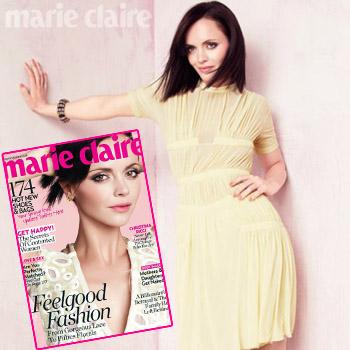 It's no secret that Christina Ricci struggled with an eating disorder as a teenager, but the Pan Am actress reveals new details about how being outed at 14 years old actually changed her life for the better.
"Somebody actually found out about it and outed me while I was recovering," the former child star reveals about her eating disorder in the April 2012 Marie Claire UK. "It was a horrifying thing to do to a 14-year-old trying to cope with a devastating illness."
Article continues below advertisement
However, the pain she suffered from the experience taught her a life lesson.
"Out of rage, I vowed that no one would ever be able to out me for a secret again. So I was going to be completely honest in the rest of my life. I don't want to be hurt in that way again."
"It took a while for me to be comfortable with who I was," the actress explains about coming of age in the public eye. "To realize everyone might not get my sense of humor; everyone might not like me. You know what, I'm not going to change who I am. I've tried. It doesn't work. I've never been very Hollywood."
MORE ON:
hollywood happenings
Though Christina doesn't regret her wild child ways, she is happy to be in a better place now.
"I'm so glad I'm not 20 years old any more. I was in a hurricane. I'm a lot calmer now. I don't cause destruction for myself and others everywhere I go. I take things as they happen and I've learned to be calm about things. Troubleshoot problems as they arise and make the best out of things."
RELATED STORIES: