Exclusive
Why Britney Spears Settled Sexual Harassment Lawsuit With Ex-Bodyguard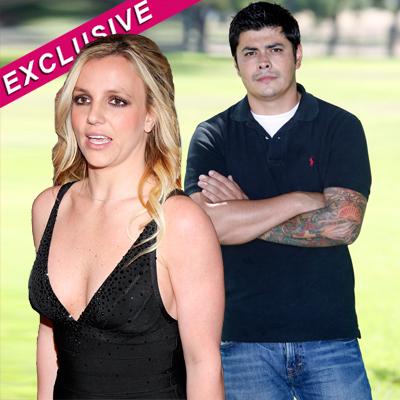 Britney Spears settled a sexual harassment lawsuit filed by her ex-bodyguard, Fernando Flores, in a bid to avoid more embarrassing allegations becoming public -- but not before the singer's antagonist appeared in a videotaped deposition.
In a transcript of the interrogation, obtained exclusively by Star magazine, Flores claimed that Spears' dad, Jamie, who has had a conservatorship over his daughter and her business affairs since 2008, often demanded that security stop the Oops, I Did It Again from seeing her boyfriend.
Article continues below advertisement
EXCLUSIVE DOCUMENTS: Read Britney Spears' Ex-Bodyguard's Deposition
It's understood Jamie was referring to Britney's now-fiancé, Jason Trawick, based on the timing of when Flores worked for the pop star.
"Every once in a while, whenever Ms. Spears and her boyfriend were in a fight, he (Jamie) would tell me, 'He is not allowed to come to the house' or 'He's not allowed to be around the kids,'" Flores testified under oath.
Last week, Britney, 30, went before a private mediator and hashed out an agreement to close Flores' case.
Flores filed the suit in September of 2010. In it, he alleged Britney, 30, flashed him, invited him into her bedroom when she was naked and claimed she used various drugs including methamphetamines.
In court documents, the ex-bodyguard and former cop alleged the Toxic singer broke wind and picked her nose "unapologetically," did not shower for days on end, nor brushed her teeth or ever wore deodorant.
Article continues below advertisement
Flores also detailed how he witnessed Britney and her boyfriend -- believed to be longtime beau Trawick -- having "violent quarrels" in which she would yell "F**k You!" and "Get the f*ck outta my house!"
Whilst the terms of Britney's settlement with Flores are confidential, the interrogation is not.
Under questioning, Flores recalled how he once walked in on Britney and her boyfriend having sex -- and how she attempted to seduce him, behind the back of her beau.
MORE ON:
Celebrity Justice
In one instance, Flores said he was summoned to her room, when he heard "Come in."
"So I go in, and I'm kind of looking to see where she's at, and as I walk down the hall I look to the left and she's standing in the living room next to the couch and is completely nude," he said, during the examination.
"She didn't say anything. She kind of stared at me and kind of went like, 'Oh,' like, 'Oops' like 'what am I doing?' I said, 'Do you need anything?' She goes, 'Give me two bottles of 7Up.' I turn(ed) around the leave and she mumbled, 'What are you, a f*cking f*ggot?'"
Article continues below advertisement
On another occasion, according to Flores, she had requested her bodyguard go into her bedroom and turn on the fireplace.
"She told me to wait 15 minutes and then knock on her bedroom door. So I did," he said. "She was wearing a see-through nighty. I asked her, 'What did you need me to do?' She said, 'Oh, can you turn the fireplace on.' I'm trying to get it lit... and I look over at her and she drops her lighter and then bends over, looks back at me."
Flores worked for Spears from February until July of 2010, when he stormed out of her Calabasas, Calif.. home.
Soon after the suit was filed, the Spears family released a statement saying it was "just another unfortunate situation where someone is trying to take advantage of the Spears family and make a name for himself."
During the deposition, when asked what his "general sense" of Spears was, Flores responded: "That she was crazy. Just off the wall. She was there, wasn't there."