The Bachelor's Runner-Up Lindzi Cox: 'Happy With How It Ended Up'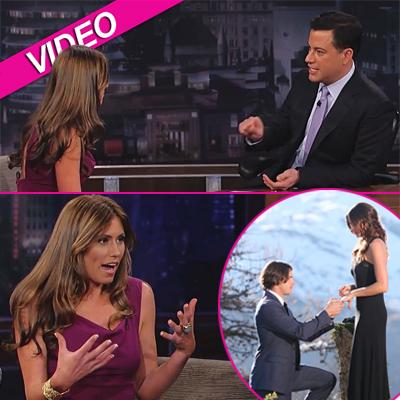 One glance at stunning Lindzi Cox and you've got to wonder just what Ben Flajnik was thinking in giving her the boot on Monday's finale of the Bachelor, but nonetheless someone has to lose.
The leggy Seattle businesswoman appeared on Jimmy Kimmel Monday night following the show's airing to share her experience on ABC's real-life soap opera.
"I think in the moment, obviously, you're like getting off this helicopter in Switzerland and you're maybe going to get engaged to or maybe you're going to get dumped and you have no idea," she said of the enchanting Matterhorn backdrop where Ben decided to propose to model Courtney Robertson, and not her.
Article continues below advertisement
"In hindsight, he made his decision, and I'm in a really good place," Lindzi said. "I'm happy with how it ended up. I respect it."
Watch the video on RadarOnline.com
Of course, the audience learned learned on After The Rose that Ben and Courtney's relationship had crashed and burned since their high point in Switzerland, as the winemaker wasn't thrilled with the bad girl antics he saw out of Courtney on the show, calling off the engagement.
Article continues below advertisement
Kimmel asked Lindzi about appearing on the Bachelorette at some point, and she wasn't opposed to the idea.
"I think I would like to have all those options though," she said. "How fun would it be to have all these roses?"
As for how she watched the show as a spectator this season, she said "it was weird.
Jesse Csincsak's Message To Courtney: 'You're An Idiot!'
"I watched it with my ten best girlfriends and a bottle of wine -- maybe a couple of bottles of wine -- it makes it easier!"
"It makes life easier!" said Kimmel.