Ali Landry: Mario Lopez Is A Liar And A Cheater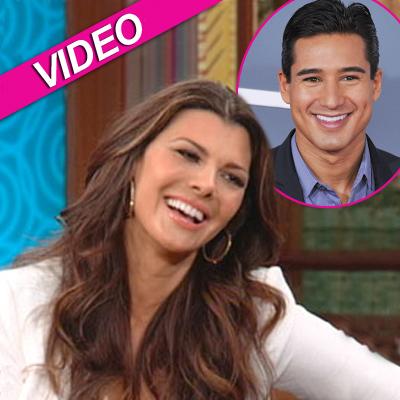 Mario Lopez was not saved by the bell Thursday, as his ex-wife Ali Landry accused him of being both a liar and a cheater during an appearance on The Wendy Williams Show.
Landry, a former beauty queen and Doritos girl, explained how her short-lived 2004 marriage to the child star-turned-Hollywood utility man crumbled like a three-day-old cake even before the "I do's" were exchanged.
"I had heard something right before the wedding: He swore that it was not true, but I had that feeling in my gut," Landry, 38, said. "All of my family was flying in, it was a destination wedding, and I really should have put the brakes on it at that point, but I was afraid."
Article continues below advertisement
Landry said one of her girlfriends suggested she could tap Lopez's phone to suss out the truth, and Landry reluctantly agreed.
"I was like, 'I don't want to tap a phone! I can't believe I'm doing this.' So she did, and right after the honeymoon I started getting phone calls from these girls," the mother-of-two told Williams. "I confronted him and he still to this day, he denied it and never apologized: It was horrible."
Of course, Landry famously had the union annulled after a mere two weeks. Lopez, who projects a nice guy image on-camera, says he's still on good terms with his exes -- not so, says Landry.
Watch The Video On RadarOnline.com
"That's a lie," Landry said, adding she hasn't spoken to him since she annulled their marriage two weeks after the wedding.
Landry said her comments Thursday were not intended on degrading Lopez, but to show women they can be empowered after a tough time.
"I was so side-swiped by the whole thing, I read the bible everyday ... I never really got angry," said Landry, who's now happily married to director Alejandro Monteverde. "I discovered a lot about myself and I'm a better woman because of it."