'The Wedding Dance' - Watch The World Premiere Of The Film You Helped Fund!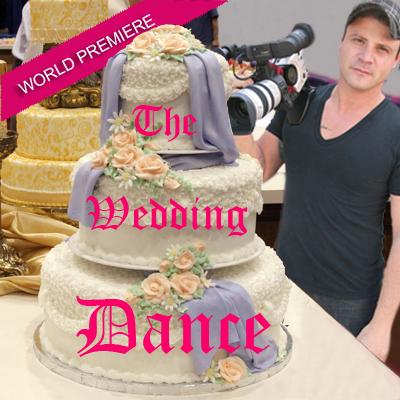 Article continues below advertisement
The issue of same-sex marriage has become the hot-button issue of the 2012 election season with everyone from politicians to celebrities, including Ellen DeGeneres, Lady Gaga, Cyndi Lauper, and Star Trek's George Takei, weighing in.
Now, as The Wedding Dance hits the web, the charismatic London, 31, is announcing his next big project, another film that hits close to his heart. Unlike The Wedding Dance, his new film, FRIEND, will be a full-length feature about anti-gay bullying, a timely topic in wake of the tragic suicides of Jamey Rodemeyer and Tyler Clementi, among so many others.
As he did with The Wedding Dance, London is once again turning to social networking to help fund the ambitious project with the profits going to help young people at risk.
RadarOnline.com spoke with this multi-talented director/producer about FRIEND and about today's long awaited release of The Wedding Dance.
RadarOnline.com: After months of hard work, you must be thrilled that The Wedding Dance is finally being released today. This really was a labor for you, wasn't it?
Article continues below advertisement
Elliot: The Wedding Dance is beyond important to me because it proves that we can all come together and create meaningful art. A short film but a complex piece of imagery took a lot of dedication from every member of the cast, crew & producers. We spent countless hours editing footage. Countless hours mixing the sound and music score. Countless hours doing color correction on every frame. Every member of the team working on top of their 40-60 hour work week to than give their free time to concentrate on this project. I do not even think passion can justify what we have put into this. That is why I have no doubt in my mind that we can make a feature film as a collective.
RadarOnline.com: The film cost $12,000 and you were able to raise nearly the entire budget through social networking -- a very novel and groundbreaking idea.
Elliot: I think I was a bit ahead of my time. About five years back, we did not feel as secure making online payments as a society. We had built a site for people to make donations for a film, but unfortunately the timing was not right. As a culture even I was skeptical to even use PayPal. Now I could not imagine my life without a virtual wallet.
Article continues below advertisement
I had spent the last year as a VP of branding for a distribution company. I had put my skills to the test and help build what I think was a great social network for the brand. When it was time for me to move back into filmmaking, I took my experience and my personal Facebook and emailed all 4,950 friends. Nearly 24,000 clicks on a mouse pad and three weeks later, we managed to raise $10,000 for The Wedding Dance though Facebook. I think if you are willing to really put yourself out there and do the work, anything is possible. It takes more than a few wall posts ... it takes passion.
Watch the video on RadarOnline.com
RadarOnline.com: Your next film -- a full length film called FRIEND -- takes a hard and realistic look at anti-gay bullying in the 21st century, due in part to Facebook and Twitter. As a gay teen growing up in Rockford, Illinois, did you personally experience bullying as a kid?
Elliot: F*ggot! That word will always resinate with me. 1995 -- I remember it clear as day. I was in 8th grade riding the school bus home. Shawn, a school bully, made me his latest target. I was already a bit different so no one would ever ride next to me on the bus. One spring afternoon on the ride home Shawn called over in an incredibly nice voice ... "Hey Elliot." Being excited that someone was was actually going to have a chat with me, I peered my head over the tall bus seat. "Your such a F*ggot," he yells directly to me and hocks a loogie into the center of my face. I was so mortified and de-humanized at that moment that I went into shock. I remember uncontrollably crying. I just could not process what had happened. I just wanted to crawl into a hole and die. I did not want to ever go back to school. I did not want to tell my parents as it would bring up the questions of why did this happen. What was the reasons he was picking on you. I could not confront who I was because I still did not understand fully who I was.
Article continues below advertisement
RadarOnline.com: It's obvious this film is deeply important to you.
Elliot: I feel that in 2012, that kids that are coming to terms with their sexuality do not have the proper tools to cope with bullying in a time of social networking. When most of us where younger when we were made fun of it, the humiliation was concentrated to the people doing the ridiculing. In present day, when a child is humiliated he can become an instant victim of Cyber Bulling. Within seconds of being ridiculed, a tweet, post, even a youtube clip can be uploaded before the victim has a chance to even process the humiliation. I have yet to see a coming-of-age film that tells this point of view in a socially networked era.
We need to be very clear on something. Bullying will never go away. It is a part of the human life. Yet, we can bring more attention to it through media outlets. The goal I really feel is how do we equip a child with the tools to handle the ridicule and understand their self worth. When you are an adolescent you have complete tunnel vision on the present. If we can expand their capacity to also note that there is a whole world outside the school walls, it will save lives and build role models.
Article continues below advertisement
That is why I feel that making the film FRIEND is so important.
RadarOnline.com: As you did with your short film, The Wedding Dance, you hope to raise funds for FRIEND through social networking, only this time, because it's a full length film, the budget is significantly higher, right?
For more information about FRIEND and to make a donation, click here.
Elliot: The budget for this film is $250,000 -- which equals about 50,000 Frappucinnos. Divide that by the population of the USA being 307,000,000. I really think that we can raise this money. Give up one coffee in your weekly routine and make a difference.
When you look at the average budget for an independent film in 2012, you might be shocked to find that its runs around the $1,000,000 mark. We are trying to shoot a film on a quarter of that budget. It makes it for a tight production schedule and no room for failure. With a big budget film, you have the freedom to shoot over months with an average of 16 weeks of editing. Now condense that to 12-14 days and with only a few weeks to edit. With the right team, a $250,000 film can look like a million dollar film.
Article continues below advertisement
RadarOnline.com: I understand you intend to donate profits from FRIEND to help gay youth in crisis.
Elliot: I feel that it is only the right thing to do by giving profit back into the community. If the movie is funded by the masses, than the moral thing to do would be to give it back to the masses. By using the self-distribution model and going directly to iTunes, Netflix, & Amazon, we cut out the costs of having to pay the distributor.
Once we are in the distribution process, we will be able to use the profits to do three things:
1. Distribute DVDs to high-school GSAs (Gay Straight Alliances) across the country. Each DVD having a personal note from the donors that help fund the project with as little as $50 donation.
2. Set up a scholarship for LGBT high-school youth.
3. Spread profit to local at risk youth organizations.
RadarOnline.com: When are you planning on shooting the film?
Article continues below advertisement
Elliot: We are running an 80-day campaign to find the funding for this project. The goal is to raise this money in a quarter of that time so we can go into pre-production. The timeline is to be filming in summer with a late fall release, when teens go back to school. I know that we can have this film on your tablet before 2013. Once again, that all comes down to you the reader ... one coffee or one donation.
For more information about FRIEND and to make a donation, click here.
Friend Elliot on Facebook
The sound track to The Wedding Dance is available from itunes. Only $0.99 and all the proceeds are going to fund the feature film FRIEND.
Become a Friend to the feature film FRIEND and follow the journey of seeing the film being made.
Follow Elliot on Twitter
Check out Elliot's YouTube Blog