Taylor Momsen - 'I Love Stripper Shoes'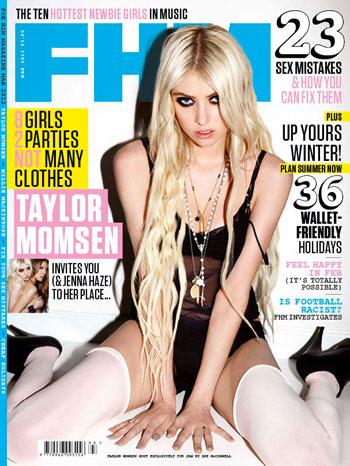 Taylor Momsen appears in a new photo shoot for this month's FHM Magazine, and the 18-year-old former Gossip Girl star who fronts The Pretty Reckless rock band and is the face of Madonna's fashion line, opens up about men, music and her very unique style.
"I love stripper shoes and I always try to find the tallest ones!" Taylor confessed.
"I'm always surprised no one talks about my shoes. I'm, like, on stage in 15-inch heels but people talk more about my eye make-up, which has stayed the same forever. I always think that's funny. I'm 5'8". So I'm really tall.
Article continues below advertisement
"I got into heels when I was little," she revealed. "My mom's really short so she always wears really tall heels and I used to steal them and now it's just a part of my everyday life."
How the men around her dress is important to the teen too. "I don't like guys who overdress. And I don't like guys who try too hard."
Men Taylor does like being around are Brit rockers. "Most of my favorite bands are from England. The Beatles, Zeppelin, The Who. America loses there," she told FHM. "I love that there's so much history. It's so cool to drive past Abbey Road Studios because you can understand where and how those bands came to be."
If her worth ethic has anything to do with it, Taylor may reach star status as a rocker some day in the future.
"I can work 24 hours a day and not have it bother me and not be exhausted by it because that was built and instilled in me at such a young age. To be honest, I don't know what to do when I'm not working," she said.
Taylor's Interview and photos are in the current issue of FHM on sale now.
RELATED STORIES: