Steven Tyler Mocks Jennifer Lopez's Oscar Nip Slip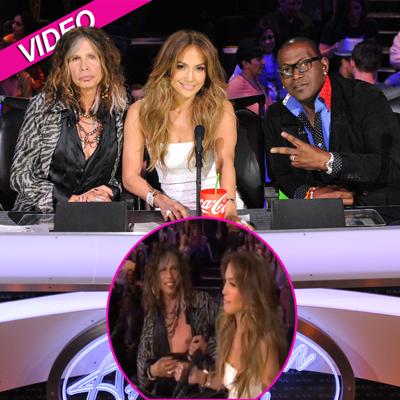 The Top 13 guys (remember, one was brought back) performed live for the first time on American Idol Tuesday night, but one of the best moments of the show came when Steven Tyler playfully mocked fellow judge Jennifer Lopez for her supposed nip slip at last Sunday's Academy Awards.
It happened after Idol 'dark horse' Jeremy Rosado sang Sara Bareilles' Gravity. As the judges were joking around, Tyler -- "confused as a baby in a topless bar" -- faked a sneeze and yanked at his shirt to expose his chest. "Who am I?" he quipped.
Article continues below advertisement
"I don't even know what to say to that," Lopez blurted out.
Host Ryan Seacrest stepped and explained: "That was an Oscar re-enactment."
Watch the video on RadarOnline.com
Lopez, smiling widely, shot back: "There was no nipple!"
Meanwhile, the top 12 girls perform live for the first time on a special 2-houredition of American Idol Wednesday night at 8/7c on Fox.