Exclusive
Stephen Dorff Sending Threatening Text Messages To Ex-Girlfriend!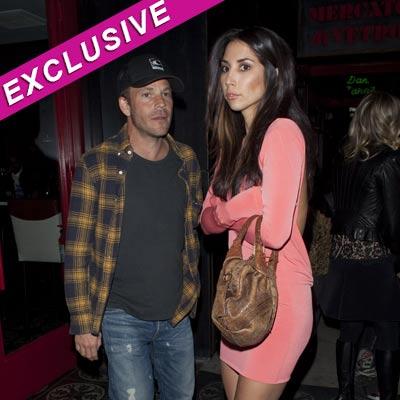 By Jen Heger - Radar Legal Editor
Hollywood hunk Stephen Dorff has been sending threatening text messages, and leaving menacing voice mail messages, for his ex-girlfriend, British beauty and reality star, Leilani Dowding, that have the model in fear for her life, RadarOnline.com is exclusively reporting.
The former couple began dating around the Golden Globes and got hot and heavy very quickly.
"They were absolutely inseparable and Stephen told Leilani that he was falling in love with her. She had very strong feelings for him as well," a source close to the situation tells RadarOnline.com. "However, one night they went out to a club and Stephen began flirting with one of Leilani's friends and she questioned him about it when they got got home later that evening and things took a real nose dive.
Article continues below advertisement
"Stephen went ballistic and that was the first time she got a glimpse of his temper. She became fearful of him at that point and removed herself from the situation. The two ended their relationship shortly after that night, but that was only the beginning of the nightmare for Leilani."
Leiliani began receiving menacing text messages from Dorff that threatened her life.
"As soon as they broke up, the text messages and Blackberry BBM messages began. Stephen sent Leilani a text message that said, 'you need to go back to England in a box.' This freaked Leilani out and the messages have been extremely graphic in their threatening nature, and have been non-stop. She is genuinely in fear for her life. She ran into Stephen at a club after they had broken up. He was with Sophia Coppolla and Leilani decided to leave the club as soon as she saw them, as she didn't want to make a scene. Stephen accosted her though and asked why she was ignoring him, and called her a 'whore,' and got in her face. Stephen is on a campaign of terror against her, and she wants it to stop. She is currently in England, but lives in Los Angeles, and will be back this weekend," the insider says.
The model and fashion designer is "contemplating going to the police when she gets back to Los Angeles over the weekend. She wants the harassment to stop and she did nothing to deserve this. She is the opposite of him, no temper, and a very lovely person. This has rattled her and she hasn't been sleeping," the source says.
Calls seeking comment to Dorff weren't immediately returned. Dowdlng was unreachable for a comment.