Minnie Driver Opens Up About Mysterious Identity Of Baby's Daddy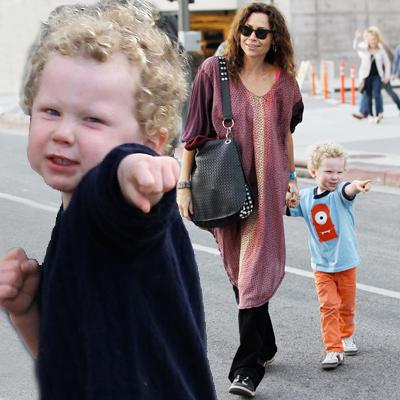 Minnie Driver's revealing a tad more about the mystery man who fathered her 3-year-old son Henry.
While she didn't call him out by name, the Good Will Hunting star, 42, said the father was a writer she worked with on her show The Riches, which ran from 2007 until 2008 on FX.
"I don't need to protect him anymore," Driver told The Observer magazine. "He can fend for himself. He's a grown-up. We weren't together, and he wasn't directly in the business, so I chose to protect him and not have a rain of publicity. He's not famous. There's no big story."
Article continues below advertisement
According to multiple reports, the father ended the relationship upon finding out Driver was carrying his child; she said Henry's dad is "figuring" out parenting, slowly but surely.
"I mean, he hasn't been that involved, his choice," the Grosse Pointe Blank beauty explained. "But he is now."
Minnie Driver On Misery Of Early Fame: 'I Dropped Down To 98 Pounds'
Driver said she doesn't think she could take care of another kid "without a partner."
"I couldn't do two as a single mum, I really couldn't," the  actress said. "It would be too much."
Who Wore It Best? Minnie Driver Vs. Aly Michalka
Driver also told the magazine her career goals, which span from the silver screen to the boob tube.
"I still want an Oscar, and to work with Danny Boyle and Martin Scorsese -- of course I want all of that," she said. "But what I really, really want to do is another U.S. TV series ... I want a regular paycheck.