Super Bowl Strip Down! Maria Menounos Strips Down Into A Bikini After Losing Bet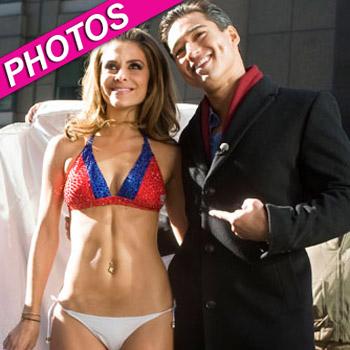 By Leah Ornstein - Radar Style & Beauty Editor
Talk about a good (and sexy!) sport.
Sexy New England Patriots fan Maria Menounos lost a Super Bowl bet with her pals Mario Lopez and AJ Calloway, and true to her word, stripped down into a New York Giants themed bikini and showed off her perfect 10 body in the middle of Times Square on Monday – and RadarOnline.com has the photos!
Looking smokin' hot in the skimpy sparkling swimsuit, the Extra host lucked out with the unusually warm NYC weather.
Article continues below advertisement
Despite losing the bet, Maria is clearly a winner when it comes to her bikini body – even though she swears she overindulged on Super Bowl junk food.
"Problem with this bikini thing? I ate everything you wouldn't eat in major quantities 2prove my confidence in winning. Now it'll be on display," she Tweeted before revealing her flawless figure.
RELATED STORIES:
New York Giants Jersey Girl! Super Skinny Snooki Shows Her Super Bowl Spirit!
Madonna's Halftime Show In Vogue With Critics & Celebs
Gisele Bundchen Defends Tom Brady: 'My Husband Cannot F*cking Throw The Ball And Catch It'
NFL, NBC Sorry For M.I.A.'s Middle-Finger Gesture During Halftime Show