White Hot! Ice-T And Coco Celebrate Second Season Of Their Reality Show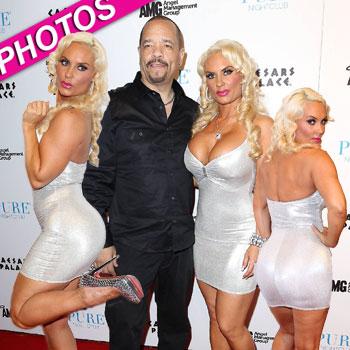 Coco showed Ice-T exactly what he loves about her in a skimpy outfit in Las Vegas last night.
The reality show couple was celebrating the launch of the second season of their series at PURE Nightclub at Caesars Palace Resort.
Coco looked, well as Coco does, in a skimpy white halter dress that left little to the imagination and showcased her dangerous curves.
Meanwhile, Coco caused controversy this week when she uploaded a naked picture of herself laying next to her baby nephew. The model quickly removed the picture from Twitter soon after posting it up after receiving negative comments.
Article continues below advertisement
Coco, real name Nicole Natalie Marrow, will apparently focus on whether she wants to have a baby in this upcoming season. Drama includes a pregnancy false alarm which lands her at the doctor's office.
Ice Loves Coco debuts on February 19 on E!
RELATED GALLERIES: