Holly Madison Opens Up On Weight Battles & Shares Fitness Tips With SHAPE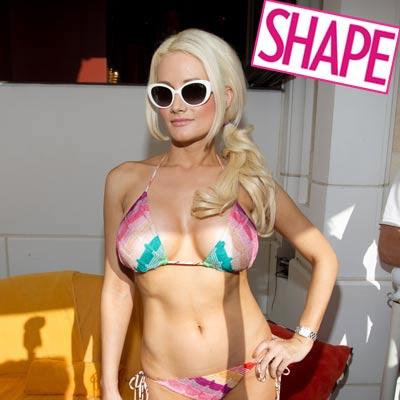 Playboy stunner Holly Madison dishes on her past weight troubles and reveals the secrets to her recent slim down with SHAPE magazine, and RadarOnline.com has all the details for you.
Madison told the magazine she began battling the bulge three years ago when she snagged the lead role in the Las Vegas stage show, Peepshow.
"I thought I could eat what I wanted and just burn it off during the show," she said of her rationale at the time, in which she took the stage five night a week.
Article continues below advertisement
Still, Holly says she wasn't getting the results she was looking for and began seeing unflattering pictures of her person sprout up in magazines and online.
"I didn't want to wear a bikini, and I began relying on a few tricky poses to look thinner in photos," she admits.
With that in mind, Holly turned to a multi-pronged fitness regimen: she began taking weight-loss supplement NV, which she says helped bolster her energy and go down a jeans size in two weeks; doing Pilates and yoga; and eating healthier on a low-carb diet.