Exclusive
DWTS Pro Tristan MacManus Is 'Delighted' To Be Paired With Gladys Knight, 'I Am Buzzing!'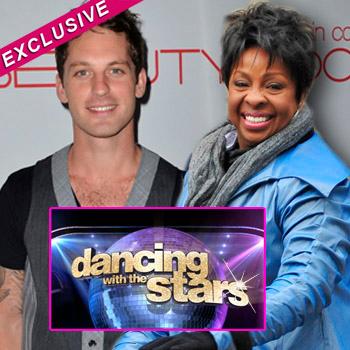 Article continues below advertisement
"I was waiting to find out who my partner was a few minutes before we went on air and I couldn't be happier," gushed MacManus, who was partnered with HLN host Nancy Grace in his debut season.
"I didn't know who Nancy was last year but I am a huge music fan, I don't think there is anyone who says they like music and doesn't know Gladys Knight.
"I am really buzzing about it, it is not every day you get to meet icons. It's great to get someone from the entertainment industry who has had such an illustrious career and is still going. To be around someone for that many hours a day is such a bonus," explained the 29-year-old from Bray in Ireland's County Wicklow.
After a brief hello when the cast of the 14th season of DWTS was announced, Tristan was on his way for his first official meeting with the singer to "dance a wee bit and do a few small things," when RadarOnline.com caught up with him.
"I am hoping she just starts singing when she comes out on the rehearsal floor, I sing along a lot when I dance, so I hope she doesn't critique me," he said bashfully.
Article continues below advertisement
"I am definitely going to learn from her and start being a sponge and taking everything in and pick her brain. I have never sung professionally but I love songs and music and I generally sing to myself when I'm in uncomfortable situations."
While the pro is hoping to learn from his partner we're sure the Midnight Train To Georgia singer will learn some smooth moves from tripping the light fantastic with the ballroom and Latin dance teacher, who has high expectations for his muse.
"It's great for me because she is a very passionate performer and that's something you can't teach people, if she can put that into her performance every week then it will be unbelievable," Tristan told RadarOnline.com.
"She's got some tour dates coming up so maybe I'll make it onto the stage behind the Pips!" he joked.
When asked who was the biggest threat out of the other cast members, which includes Melrose Place/General Hospital hunk Jack Wagner, Melissa Gilbert of Little House On The Prairie fame, and The View's Sherri Shepherd, MacManus said he and Gladys are both just out to have fun.
Article continues below advertisement
Nancy Grace Flashes DWTS Group – Again!
Nancy Grace Pulls A Hamstring Practicing For DWTS