Exclusive
Nancy Grace's Dancing Partner, 'We Can't Be Disappointed' Over Elimination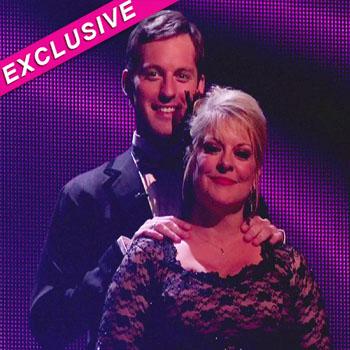 Nancy Grace took her elimination from Dancing with the Stars in good humor on Tuesday, and her dance partner has exclusively revealed to RadarOnline.com that the pair don't have any regrets.
"I wasn't surprised, it had to come at some stage. We can't be disappointed," Tristan MacManus told RadarOnline.com in an exclusive interview. "Everything went well, it was nice to go out on a good dance."
Article continues below advertisement
While naturally disappointed that they didn't take home the sparkling disco ball, the Irish professional said they outlasted expectations.
"Nancy lasted longer than people thought she was going to. From what I read before the show started, people thought we were going to go out in week two," he said. "To make it to week eight was great!
"It wasn't a sad thing, we accepted it for what it was and I don't think she was upset."
As RadarOnline.com previously reported, Nancy even joked about her elimination with Jimmy Kimmel, calling it "a huge miscarriage of justice."
"I was robbed, that's a felony -- even in California!" she added, laughing.
Now that the spitfire HLN host is back to her real job debating the toughest criminal cases, Dublin native MacManus thinks Kim Kardashian's little brother Rob is the dark horse in the DWTS race.
Article continues below advertisement
"Rob has just gotten better since he got on the show," Tristan told RadarOnline.com, adding that he hasn't spoken to him about Kim's divorce scandal last week.
"He hasn't talked about Kim at all, but we don't see the other competitors too much.
"I think it is going to be a very close competition," he went on to say. "J.R. has been killing it for weeks, but Ricki Lake has been doing great."
Dancing with the Stars returns Monday at 8/7c on ABC.