Sexy Super Bowl Special! 10 Bikini Bombshells Who Have Dated NFL Players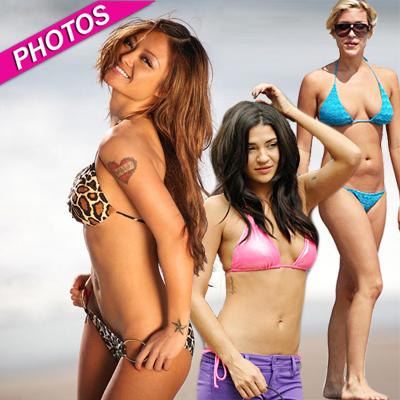 By Leah Ornstein - Radar Style & Beauty Editor
Football players have some of the strongest arms in sports, so obviously they can handle arm candy in the form of a sexy celeb!
The Super Bowl XLVI is just days away, so what better way to get in the spirit than by checking out the sexiest and most famous football fans of them all -- the former and current celebrity girlfriends and wives of NFL players stripped down into their barely there bikinis.
Article continues below advertisement
Gisele Bundchen clearly scored a touchdown with her hunky New England Patriots quarterback husband Tom Brady! The highest paid supermodel in the world will definitely be at Sunday's game, cheering on her hot-bodied man as he competes for The Vince Lombardi Trophy.
The sultry Kim Kardashian went through a football phase before moving on to courtside seats at NBA games. The reality show vixen and her ex-boyfriend Reggie Bush scored themselves the moniker The Bush and The Tush during their high-profile romance.
Quarterbacks score all the hot chicks! Beauty queen gone bad Carrie Prejean settled down and made a baby with Oakland Raiders stud Kyle Boller, while The Hills star Kristin Cavallari is on the same track with Chicago Bears baller Jay Cutler.
What other sexy stars have romanced NFL players? Find out by clicking here.