Scarlett Johansson Kisses New Man Nate Naylor On Hawaii Beach While Flaunting Her Bikini Body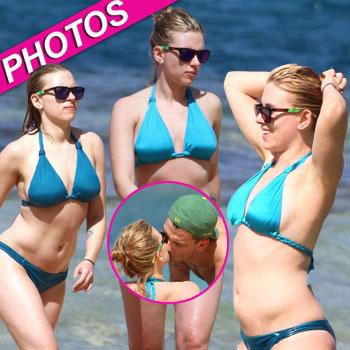 Scarlett Johansson's relationship with new beau Nate Naylor is certainly heating up and now they've taken their love on a romantic beach vacation.
The pair was seen kissing and cuddling while soaking up the sun in Hawaii.
The 38-year-old advertising executive seems to be completed enamored with The Avengers actress and could keep his hand off her curves. He spent time rubbing suntan lotion on her shoulders, stroking her head and seemed delighted when she jumped into his lap to get a bit closer.
Article continues below advertisement
Scarlett, 27, looked great in an electric blue halter style two-piece and tied her hair in a messy bun.
And although Scarlett has a surprising amount of cellulite, she didn't care as she frolicked on the beach. And by the looks of things Nate doesn't care either.
Scarlett followed her divorce from Ryan Reynolds with a rebound fling with actor Sean Penn, which only last a few months.
As RadarOnline previously reported, Scarlett's romance with Nate is getting serious.
An eyewitness said that the blonde bombshell looked "so happy and in love" during a dinner date with her lover in New York last month.
RELATED STORIES: