Exclusive
Biggest Loser Coach Bob Harper: The Contestants Are 'Bullies'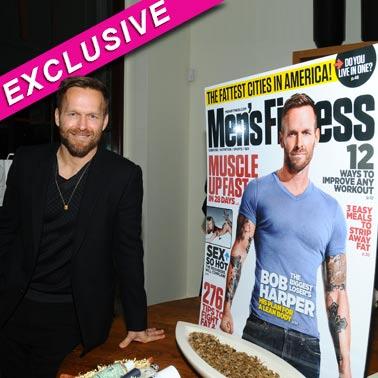 By Alexis Tereszcuk - Radar Senior Reporter
The inspiration coach on The Biggest Loser who has that special knack of kicking butt in the gym is not happy with the contestants on his reality show this season and exclusively told RadarOnline.com that he thinks they're "bullies!"
Bob Harper, the uber fit trainer who graces this month's cover of Men's Fitness, admitted what fans of the show are saying about this season – "It's nasty! It's nasty," Bob said.
Article continues below advertisement
"They hate me saying that but it's like you know what? It's true.  It's nasty and it's tough."
The hateful drama each week on the NBC show has shown the least inspirational characters yet this season, and Bob hesitated for about one second when asked if he liked anyone on the show.
"I mean…No."
With Conda, Kim and youth pastor Mark leading the pack of bullies, Bob did say there were contestants he liked, but they weren't on his list.
"There are some. I'm going to regret this. Emily, Cassandra, Chism, I love them they're really fantastic.  Buddy, buddy's a really sweet guy. The rest of them, they're nasty!"
And the bad attitude they're showing to other contestants isn't sitting well with Bob, who called them out for their behavior.
"Bullies, they're bullies."
Bob was joined by fellow Biggest Loser star Allison Sweeney and his old partner Jillian Michaels at the Men's Fitness March issue launch party at the exclusive Santa Maria Novella boutique in West Hollywood Tuesday night and said he misses his old training buddy every single day.
Article continues below advertisement
"I love Jillian and think we have a really good dynamic."
As for how he stays so fit, it isn't as drastic as the weight loss struggles on the Biggest Loser Ranch.
"I discovered CrossFit, I'm obsessed with it and it is the best workout I've ever been able to do, it is what made me look the way I look now. I'm 46 and I'm in the best shape I've ever been in in my life."
Bob, who trains at BRICK Sport Performance CrossFit Gym in West Hollywood, offered his tried and true weight loss advice.
"First thing, you have to watch your diet. You have to track the food, and you have to make sure you're working out more and eating less.
"Go with a partner, best friend, husband or wife - it gives you the motivation to stay on your workout track."
Check out Bob Harper's amazing body and workout regime in the new issue of Men's Fitness on newsstands now.
RELATED STORIES: