The Bachelor: Swiss Trip Leaves One Of 3 Finalists In The Cold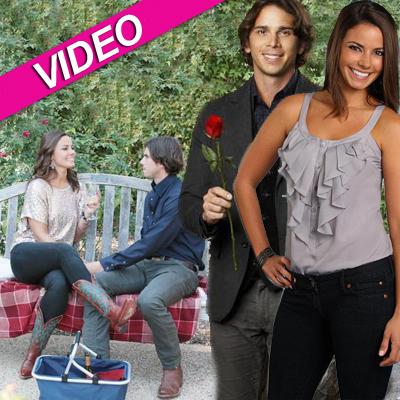 Ben Flajnik accompanied the three beauties vying for his heart -- Courtney, Lindzi and Nicki -- to Switzerland for a series of dates in which he narrowed the remaining trio to two on Monday's edition of The Bachelor, and we've got all the details for you on RadarOnline.com.
Making a surprise appearance overseas was the last woman Ben eliminated from the competition, Kacie. (Ben said bye bye to her last week, when her parents' conservative ideals for their relationship weighed a wee bit heavy on his shoulders.)
Article continues below advertisement
Watch the video on RadarOnline.com
"I didn't see that coming at all," Kacie said of last week's elimination. "It's hard for me to get that out of my mind."
Ben explained, "For me, I kind felt like we were worlds apart -- did I see you in the end? No. And the last thing I wanted to do was drag it out longer for you. That was my way of protecting you."
Jake Pavelka Is 'Nervous' About Chippendales Gig
But before Kacie said goodbye for a final time, she admonished Ben not to give in to one of her pretty peers in the competition.
"I feel like if you were to choose that if you were to choose Courtney you would get your heart broken," she told the winemaker. "It seems like she's in this to win it. She has made comments like, 'If it's not Ben, there are other fish in the sea.' It makes me sick to think that you could be hurt again, if you pick her."
So did Ben heed Kacie's advice? No chance! It would be Nicki who got the ticket home, in a decision Ben admitted aloud he was unsure of.
MORE ON:
hollywood happenings
Article continues below advertisement
Jesse Csincsak's Message To Courtney: 'You're An Idiot!'
Before Nicki hit the road, she told him, "I fell in love with you, I don't regret that. If anything, my fear is that you'll be hurt one day and I hope that's not the case. And I hope I'm proved wrong."
We'll find out who Ben chooses when The Bachelor returns on ABC Monday at 8/7c on ABC.