Meet Topper Schroeder: Hollywood's King Of Cologne!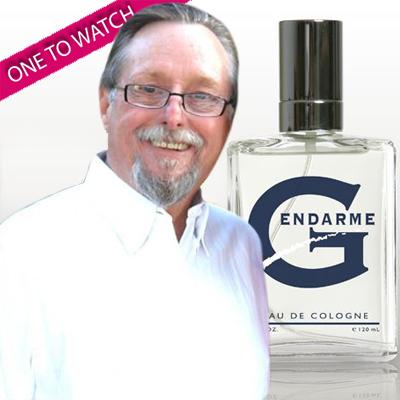 By Neil Woulfe - Radar Senior News Director
Topper Schroeder is the man who makes Hollywood smell good -- the stars love him  -- so that puts him on Radar's "One To Watch" list!
The affable (and ageless) Schroeder created the Gendarme fragrance line back in 1983 for purely selfish reasons -- he simply wanted to wear a cologne that didn't irritate his skin. He soon found that many others, including some of Hollywood's biggest names, also loved the light and fresh scent, which laid the foundation for what would blossom into a hugely successful enterprise.
Article continues below advertisement
Seven years ago, Schroeder expanded his business by creating the Gendarmerie Boutique & Spa in West Hollywood, along with partners Jonathan Risco and Michael Heath. 
At the Gendarmerie, clients can purchase the product line and also have a variety of services done, including hair styling, massage and mani-pedis. But more than being just another L.A. spa, the Gendarmerie is more of a social gathering place where, on any given day, you can enjoy a complimentary glass of wine or a lemon drop martini in front of a roaring fire in the spa's living room or in its back patio (complete with fire table), and engage in lively conversation with everyone from actors to politicians to L.A.'s finest -- the clientele is that diverse with Topper serving as your effervescent host. (Think the irrepressible Anna Madrigal in Tales of the City!)
RadarOnline.com sat down with this colorful character to talk about his nose for business -- and his nose for fragrance!
Radar: Since your background was not originally in fragrance -- you have a background as a record executive  -- when and why did you create the Gendarme fragrance line?
Topper: I'm allergic to most of the fragrances in stores and back in 1969, a friend trying to make a Hypo-allergenic fragrance used me as a Guinea pig. I found one I could use and to reward me he gave me a case of "Old Original Tonic For Men."  I wore it for years. In 1980 when I ran, I call to see if I could get more and it turned out that they never mass produced it. Fortunately, my friend remained in contact with the perfumer (Tom Slatery) and with his help, in 1983, I got in touch with him. Although the original formula was long lost,  he helped me create what is now Gendarme. Tom also created Obsession for Women. He was a brilliant perfumer working with a great staff. It should be noted that I am not a perfumer or chemist. I am a "Nose" which seems to be, like most talents, a gift. Although I have learned a lot, I was never schooled in the skill.
Article continues below advertisement
Radar: The line can be worn by a man or a woman, so is that a difficult balance to strike? Describe the scent.
Topper: Actually, I didn't "strike" it -- I fell into it. I made it for me and gave it as gifts to people in the music business -- and both men and women seem to love it. Mostly because the initial reaction is the clean, crisp freshness that it exudes. The first thing you perceive is the lemon/lime citrus then the dry-down brings out the Lilac, Jasmine and Lavender. It actually gets very sexy.  I wasn't familiar with "aromatherapy" qualities of the fragrance at the time. (I don't think the word had been invented yet.) But Gendarme wearers know: It just makes you feel good about yourself.
Radar: Gendarme means "police" in French, so how did you come up with the name?
Topper: Its working title was "Tonic For Men," but we couldn't give that to Musicians, they'd drink it! Laughs So I came up with something French and macho. "The arresting new scent for men!"
Radar: You have a large celebrity clientele. Tell me about some of the stars who wear your fragrance.
Topper: The first person to ever give me publicity was Sharon Stone. Later Deborah Messing, but so many people have stopped into our offices or into The Gendarmerie  wearing my fragrance. They include Robert Downey Jr., Queen Latifah, Ben Savage and of course my new business partner, LL Cool J. By the way, he's hosting the Grammys February 12th -- great honor!
Article continues below advertisement
Radar: You also have a special friendship with the legendary actor Billy Dee Williams, who's a big fan of the line. How did you two meet?
Topper: In a dry cleaner many years ago. I recognized my fragrance on him and said so. He said, "No its my fragrance …" I handed him my card and we've been friends ever since. He's a fascinating, talented person, and I love the pleasure of his company.
Radar: You recently took part in the three-day HBO Luxury Suite at the Four Seasons Hotel during the weekend of the Golden Globes and gifted stars with the fragrance. Who stopped by and what kind of feedback did you get about the line?
Topper: It was awesome. On press day, 30 members of the press came through and six of them were wearing Gendarme. On the celebrity days, of the 100 or so people that came in, 12 were wearing Gendarme. My ego got out of whack! (Laughs) It was neat to introduce the Gendarme to Viola Davis, Andie MacDowell, her beautiful daughter Rainey Qualley, and Neil Patrick Harris.
Radar: I understand that some stars have actually asked you to create personal scents just for them. Who have you created scents for and what were they looking for?
Article continues below advertisement
Topper: That's a tough one because most designers and stars want to take full credit so I have to be mum about it. However, in 1999 I created "Moi" by Miss Piggy. I am also proudly responsible for "Mojo By Austin Powers." On a more serious note (excuse the pun) I am collaborating with Billy Dee on two wonderful fragrances for release later this year. They are awesome!
Radar: LL Cool -- who calls himself Gendarme's 'Fragrance Ambassador' -- was such a big fan of the line, he sought you out and is now involved in the company. Tell me about your first encounter with him and how it recently evolved into a business relationship.
Topper: His management made a call to me and made an appointment for Todd Smith. Three days later, LL Cool J walks through the door and says, "Are you Topper Schroeder? My God, my wife isn't going to believe I met you!" He told us how Gendarme changed his life and the started hanging out at the Gendarmerie . One day he decided he had to be part of all of this, and he bought in his business prowess, his positive energy, and of course, his persona have been working miracles for us.
Article continues below advertisement
Radar: In addition to the fragrances, you also sell other projects, including shaving cream and moisturizers. Tell me about them.
Topper: We are gradually entering the skincare market. We have an SPF Moisturizer, a Shea Butter Balm, Anti-Acne Skin Conditioner and Body Oil in the works.
Radar: Where can people purchase them and what are the various price points?
Topper: Nordstrom, Barney's, Fred Segal, Bloomingdales and Macy's. (On the shelf on the West Coast.) You can also special order in any Macy's store.  You can also always purchase at my web site www.gendarme.com <http://www.gendarme.com/>. Our fragrances are mid-priced, from $57 for a 2 oz. bottle, to $105 for a 10 oz. fine mist natural spray can.
Radar: In conjunction with the fragrance line, you also run a boutique/ spa called The Gendarmerie in the heart of West Hollywood, where people can not only purchase the products in your line, but also get other services done, such as hair care, massage, or manicure/pedicures. The spa is very different than other spas in Los Angeles. Tell me about your approach and what makes the spa unique.
Topper: We have the most comfortable place for you to be your best. I think our services "pump-up" you self-esteem. Most people do not know how good it looks or what getting rid of stress can do to heighten your potential. Our staff specializes in bring out the best in our clients.
Article continues below advertisement
Radar: It's not uncommon to see celebs hanging out and the spa mingling with other customers, right?
Topper: Absolutely. We are sanctuary. No paparazzi … just a fireplace, fountains, martinis, camaraderie and beautiful calm.
Radar: Finally, where do you see the company expanding in the next five-to-ten years?
Topper: We are dedicated to bring the highest quality products that reflect the lifestyle of our customer. Since Gendarme doesn't "cover up" a person's own aura -- just enhances it -- we will be making accessories and clothing in our expanded boutiques and spas. In addition to our West Hollywood boutique/spa location, we are planning on expanding to New York, Georgetown, Chicago, etc. Wherever men need a break, and a bump-up in real self-esteem.