Exclusive
Is Rachel Zoe Pregnant? Fashion Guru Keeps Suspiciously Covered-Up In St. Barts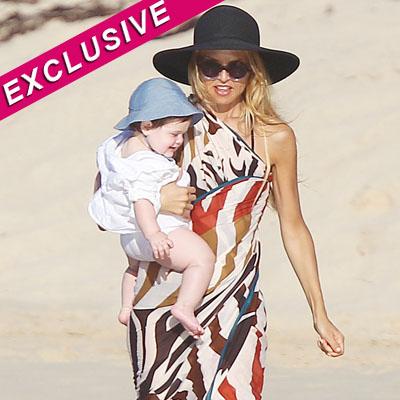 Is Rachel Zoe keeping something under wraps?
While vacationing in St. Barts over the holidays, the stylist-to-the- stars refused to reveal her midsection, wearing oversized caftans while everyone else was in swimsuits, and a source tells RadarOnline.com that the reasoning behind her oversized attire is that Zoe is pregnant with her second child!
The source, who works in the fashion industry, claims that Zoe admitted to a fellow stylist last month that she was already pregnant with her second child, and from the looks of her resort wear, it appears that there may indeed be another bun in the oven!
Article continues below advertisement
"Rachel is just past the three month mark so she's hardly showing yet at all," the source says. "She's thrilled, but, quite frankly a little shocked!
"She didn't think she would fall pregnant a second time, let alone so quickly!
"Both her and Roger are really, really happy though, and Rachel is hoping for a little girl this time round, although more than anything she just wants another healthy, happy baby."
Zoe, who gave birth to her first child Skyler Morrison Berman with husband Roger Berman in March, is rarely photographed without her adorable son and revealed during New York Fashion Week that it was hard to go to fashion shows and leave her baby behind.
As RadarOnline.com previously reported, Roger has made no secret of wanting a sibling for Skyler.
During a party at L.A.'s Santa Maria Novella boutique back in November, "Rodger told people that Skyler is the love of his life and that they've never been happier," an observer revealed to Star magazine. "He's ready to have another child."