Mamãe Sexy! Alessandra Ambrosio Shows Off Growing Baby Bump In Tiny Bikini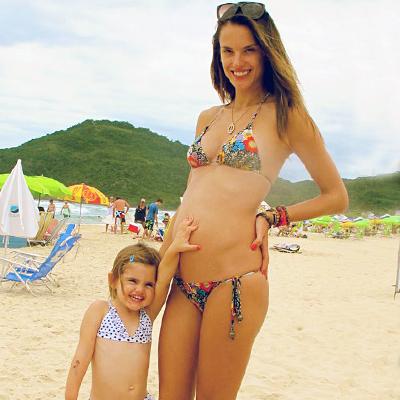 Alessandra Ambrosio may be four months pregnant but she still looks every inch the Victoria's Secret beauty as she flaunted her baby bump in a tiny bikini on Thursday.
She posted the image of herself and her gorgeous three-year-old daughter Anja Louis on Facebook as they soaked up the sun during their tropical beach vacation.
The 30-year-old Brazilian model announced this week that she was expecting her second baby with fiancé Jamie Mazur and proudly displayed her growing belly in the cute picture.
Article continues below advertisement
And her giggling mini-me showed she was delighted to be getting a little brother or sister in Spring by placing her hand on her mother's neat little bump.
With not a swollen ankle or a varicose vein in sight, Alessandra just looked like she'd had a big meal rather than already being in the second trimester of her pregnancy.
Alessandra was already several weeks along when she strutted her stuff down the runway for the Victoria Secret's annual fashion show in November. She cleverly covered any sign of her pregnancy with a bejeweled belt.
But with legs to die for and ample assets – it was unlikely anyone was looking at her stomach at the time anyway.
As RadarOnline.com previously reported, the new issue of SHAPE magazine has all the details about how Alessandra started the Brazil Butt Lift fitness trend, and how to get your booty looking as bangin' as hers!
More than a decade ago, the model turned to fitness expert Leandro Carvalho, to help her get an angelic and lingerie-ready body – and the Brazil Butt Lift was born!
Article continues below advertisement
"Alessandra was looking for a program to specifically target and tone her butt without bulking up her legs," Carvalho says. "She wanted her legs longer, her thighs thinner, and her butt toned and tightened."
"Leandro is just the best trainer for my butt -- and for my abs, and for everything else -- but especially my butt! He came up with this whole workout just for my butt. He is the best," gushes Ambrosio.